Food & Drink
Shake Shack's Head Chef Found the Perfect Burger in a Supermarket
Mark Rosati fell in love with a patty from a U.K. store. He has tips for finding great ones in New York, too
By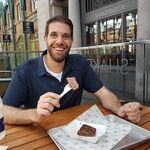 You might expect to find the best burgers in restaurants where chefs have spent years discovering the finest breeds to produce the best combination of cuts—with the optimum fat content and the ideal texture to create the perfect patty.
Or you could just go to the store and buy one.
As upscale burger chains face an increasingly competitive landscape, U.K. supermarkets are working to produce the ultimate burger, employing leading chefs and sourcing great beef to create enticing, ready-to-cook patties. But how are they doing?
We asked one of the biggest cheeses in the burger world, Shake Shack Culinary Director Mark Rosati, to put them to the test in a blind tasting at the Shake Shack outlet in London's Covent Garden. He tasted five store-bought patties and discovered one worthy of the highest accolades.
You can find a good burger in a few specialty places in New York: Greene Grape, Meat Hook and Fleishers, Rosati said. Of the last, he said: "Those guys take a lot of pride in sourcing animals locally, and they are dry-aging those cuts in house themselves."
Would grocery-store burgers fly in New York City? "Most New Yorkers will not go out and buy hamburgers at a store," Rosati said as his chefs got cooking. "They will rather go to a restaurant."
Here's what he had to say about the British burgers, scored and listed in descending order.
Heston from Waitrose: The Ultimate Beef Burger £4.99 ($6.70)/250 grams:  10/10
This supermarket burger is as close as you could come to going to a butcher, Rosati said.

It was created by chef Heston Blumenthal, who holds three Michelin stars at the Fat Duck. He has said it includes three different cuts of beef—chuck, brisket and aged fore rib—blended and aligned so the grain sits vertically. The meat is all British beef, simply seasoned with salt and pepper.
Rosati liked that the burger had a distinctive shape and texture—as if someone had formed the patty with their own two hands. "This looks good, very natural," he said. "You can see the different peaks and valleys in the meat as it's cooked. The sides have all these little angular parts."
The burger's look and taste held up after cooking, too. "You can see the juice and the fat coming out, which is something I look for," he said. "It's a nice beef smell. We are getting some interesting beef notes to it."
He added: "That's a great burger. That's a 10 right there. It's such a wonderful flavor."
Marks & Spencer: BBQ Grill Ultimate Steak Burgers £4/340 grams: 7/10
Rosati liked the appearance, aroma and taste, but it wasn't perfect: "It is pretty respectable," he said. "It's not going to be a game changer by any stretch of the imagination. But that delivers on what a burger should be. It has a nice beefy flavor, and I like the texture. It's nice and soft. I just wish it were a little more juicy."
Co-op: Irresistible Hereford Beef Burgers £3.19/340 grams:  6/10
"If I had friends coming over to my house and I wanted to impress them with a burger, this one might not quite do it," Rosati said. The meat fibers were a little too compressed and compact, and the taste wasn't robust.
"It is not my favorite texture," he said. "There's pepper throughout the patty, but behind the pepper, the beef is really one dimensional."
Sainsbury's: Taste the Difference British Beef Steak Burgers £2.50/340 grams:  5/10
Uh-oh. "It feels a little mass produced," Rosati said. "The way it's formed, the meat fibers, how it's ground. There's not a lot of juice coming out."
It didn't get better from there. "There's a little funkiness to it, especially at the end of the bite, almost like maybe an aged flavor," he said. "There's way too much stuff going on."
Iceland: Luxury Ultimate 5oz Steak Burgers £2/284 grams: 4/10

These are the least expensive and contain a special ingredient: miso powder for extra flavor. Rosati was not impressed. "There's no real juice coming out," he said. "It's on the dry side and tastes very seasoned. I am getting different flavors, and what I am looking for is delicious, pure meat. It's more of a meatloaf flavor, texture going on. It's not hitting the hamburger experience. "
Richard Vines is chief food critic at Bloomberg. Follow him on Twitter @richardvines and Instagram @richard.vines.
Before it's here, it's on the Bloomberg Terminal.
LEARN MORE