Roku IPO Is Year's Best for Tech Stock Debut With 68% Jump
By
Share rise ranks Roku in tech's top five of past three years

Video-streaming seen as lucrative target as cable TV cord cut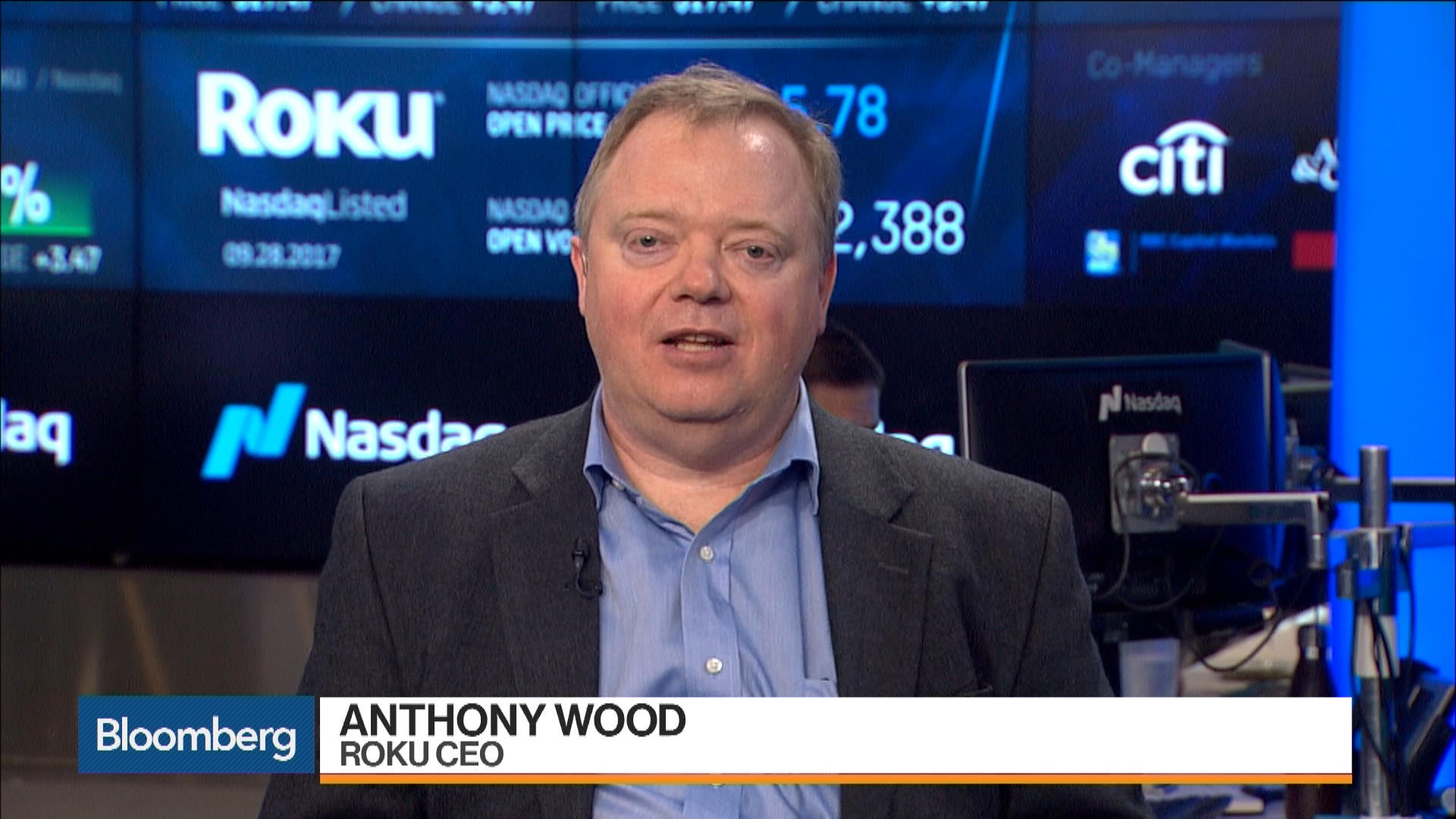 Roku Inc.'s trading debut has catapulted it among the biggest gainers for newly listed technology and communications stocks as investors bet on the success of streaming video.
The shares closed at a high on its first day of trading at $23.50, up 68 percent from its $14-a-share initial public offering price. That surpassed MuleSoft Inc.'s first day rise in March, making Roku the top first-day climber of 2017 for a U.S.-listed tech company with an IPO bigger than $50 million. Its first-day performance was the fifth best of the past three years.
Investors bought $219 million worth of Roku stock, with 15.7 million Roku shares selling for $14 each. They were initially marketed for $12 to $14 apiece. The company sold 9 million shares, while its biggest investor, Menlo Ventures, sold 6 million.
Public market investors are angling for a piece of the maker of the best-selling video streaming device. It's a bet on customers continuing their cord cutting to watch more movies and shows beyond old-school cable subscriptions.
Software maker MuleSoft, which gained 46 percent on its first day of trading, has risen 19 since March.
Roku's first-day success on Thursday also reveals a continuing appetite for tech-related IPOs. Still, a strong debut hasn't guaranteed continued gains for two of the year's highest-profile listings. Snapchat owner Snap Inc., which had the second-best first day for a tech IPO this year, is trading 15 percent below its $17 offer price in March. Online meal-kit delivery service Blue Apron Holdings Inc. closed at $5.59 a share on Thursday, 44 percent below its June debut.
Roku makes devices and software that allow users to stream video onto their televisions from sources such as Netflix Inc., Amazon.com Inc. and ESPN. Roku, based in Los Gatos, California, was an early mover in what's now a crowded market for home devices and streaming tools. Technology giants including Apple Inc., Alphabet Inc.'s Google and Amazon.com Inc. are now focusing intently on the space.
Cutting Cord
Streaming video distributors HBO, Hulu or Dish Network with its live-streaming product Sling TV see Roku's 15 million active users as an opportunity to build their customer base, the company's founder and chief executive officer, Anthony Wood,said in an interview. Roku then makes money by taking a cut of the subscription or advertising revenue for videos streamed through its platform, he said.
"We're focused on the big screen TV," Wood said. "It's how most long-form content is watched. For many partners, that's where the most of their viewing hours come from."
Wood said that Roku's open platform, allowing video content from various sources, has helped it edge out competition from more restrictive devices, such as Apple TV. Roku also licenses its software platform to smart-TV makers.
Three-quarters of Roku's $398.6 million in 2016 revenue came from selling its player hardware. The company, with a net loss of $42.8 million for the year, has helped increase its average revenue per user through higher-margin advertising sales.
Ad-Supported Content
"Our business model has really transitioned from hardware to our platform businesses, which is selling advertisements and distributing content," Wood said. "The fastest-growing category on Roku is ad-supported content."
The company also has its own relatively new channel, The Roku Channel, where it curates video content. Wood said he's interested in distributing that content beyond his company's platform, perhaps in a traditional cable lineup.
Roku is the 22nd technology IPO of the year, according to data compiled by Bloomberg. Its offering size ranks it among the top 10 deals. Morgan Stanley and Citigroup Inc. led the offering. The company, which is offering Class A shares, is listed on the Nasdaq Global Select Market under the symbol ROKU.
Before it's here, it's on the Bloomberg Terminal.
LEARN MORE