Japan's Main Opposition Group Crumbles as Koike Begins Fight
By
Leader of Democrats won't register party for election: Kyodo

Tokyo Governor's Party of Hope sees rapid rise in support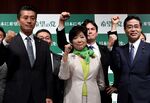 Japan's main opposition Democratic Party looked set to disband ahead of next month's general election, as it lost a series of members to a new group launched by Tokyo Governor Yuriko Koike Wednesday. 
The Democrats won't run any candidates in the election, expected Oct. 22, and leader Seiji Maehara will stand as an independent, Kyodo News said, citing sources close to Maehara. Koike unveiled her Party of Hope earlier the same day, giving her less than a month to pull together a political force she hopes can defeat Prime Minister Shinzo Abe.
Her fledgling party has already attracted 18 percent support in a survey conducted by the the Mainichi newspaper Sept. 26-27, placing it second behind Abe's ruling Liberal Democratic Party on 29 percent. The group she described as conservative but reformist has also sparked chaos among lawmakers, many of whom are rushing to switch allegiances ahead of the vote.
In government since 2012, Abe's coalition has a two-thirds majority in the lower house of parliament and opinion polls show his Liberal Democratic Party's approval rating is higher than that of any rivals. But if Koike's group manages to shrink his majority significantly, he will come under increased pressure to step down as party leader when his term expires next September.
"I am establishing this Party of Hope to change Japan," Koike told a packed press conference at a hotel in Tokyo earlier in the day. "We can change Japan because we are unfettered. And if Japan does not change, its international competitiveness and national security are at risk."
Speaking on BS Fuji television later in the evening, Koike said she did not plan to join forces with other parties in the upcoming election, and indicated she would deal with other lawmakers on an individual basis rather than as a group.
The Democratic Party of Japan swept to victory in a 2009 election, buoyed by public anger over corruption in the long-ruling LDP and promising to prioritize investment in people over infrastructure. But its administration was marred by errors, as well as by the 2011 tsunami and nuclear crisis. After a rapid series of changes in leadership, the Democrats lost power to Abe's LDP in December 2012.
Since then, the party has merged and changed leaders several times, but failed to restore public confidence. Maehara himself was elected as leader just earlier this month. Calls to a party public relations official were unanswered outside business hours.
It is unclear whether Koike's party will be any more successful in the longer term.
"They have all sorts of flotsam and jetsam," Steven Reed, a professor of political science at Chuo University in Tokyo, said earlier Wednesday. "A lot depends on how good their flotsam and jetsam is. Do they have politicians with strong support groups who can win a seat?"
Previous attempts to form a third political force have quickly faded, or turned into local parties, he added.
Abe has described Koike as a "formidable opponent." She beat his candidate to win the Tokyo governorship last year, and her local party thrashed the LDP in elections for the metropolitan assembly in July.
The ruling coalition controls about 68 percent of seats in the 475-member lower house of the national parliament including 287 for the LDP and its allies and 35 for its coalition partner Komeito, according to the parliamentary website. The total number of seats is set to be cut to 465 in the next election as part of a reform aimed at reducing the excessive weight given to rural votes under the current system. The Democrats hold 87 seats in conjunction with the Club of Independents.
— With assistance by Stephen Stapczynski
Before it's here, it's on the Bloomberg Terminal.
LEARN MORE