New Zealand Kingmaker Slams Fake News, Won't Rush to Endorse Government
By
'You should be frankly ashamed of yourselves,' Peters says

Won't anoint National or Labour government till after Oct. 7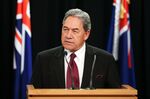 New Zealand First leader Winston Peters said he will wait for final election results before deciding whether to support a National or Labour-led government.
Speaking at his first formal press conference since the Sept. 23 election delivered him the balance of power, Peters said his party can't make a decision on which side to back until special votes are counted and final results are published on Oct. 7. He also lambasted the media and accused it of reporting fake news.
"We're not going to be persuaded or dissuaded by any of the speculative drivel that's been written by some of you around this country, and you should be frankly ashamed of yourselves," Peters told reporters Wednesday in Wellington. "I can't with any intelligence, and nor can my colleagues, tell you what we're going to do until we have seen all the facts."
Both the ruling National Party and the opposition Labour Party need Peters' support to form the next government after the election failed to deliver either side a majority. While conservative National won 46 percent of the vote to comfortably remain the biggest party, left-leaning Labour and its ally the Greens could achieve a slim majority together with New Zealand First.
Peters insisted he has not decided which way to go and railed against a recent television report that said he's out to exact revenge against National for a string of perceived wrongs.
"It's not true, it's utterly false," he said. "We know we've got a bigger responsibility and we're going to fulfill it, whether you give us a fair go in that exercise or not."
National won 58 of the 120 seats in parliament while Labour got 45. New Zealand First won 9 seats and the Green Party has 7. There is a possibility that the center-left bloc could gain one or two seats once about 380,000 special votes, including overseas ballots, are counted, giving it a slightly less precarious majority should Peters choose to endorse it.
Before it's here, it's on the Bloomberg Terminal.
LEARN MORE