McConnell's Rough Year Gets Much Worse After Health Bill Failure
By and
Health bill failure, loss of allies casts cloud ahead of taxes

Pressure on Republicans to deliver on year-end priorities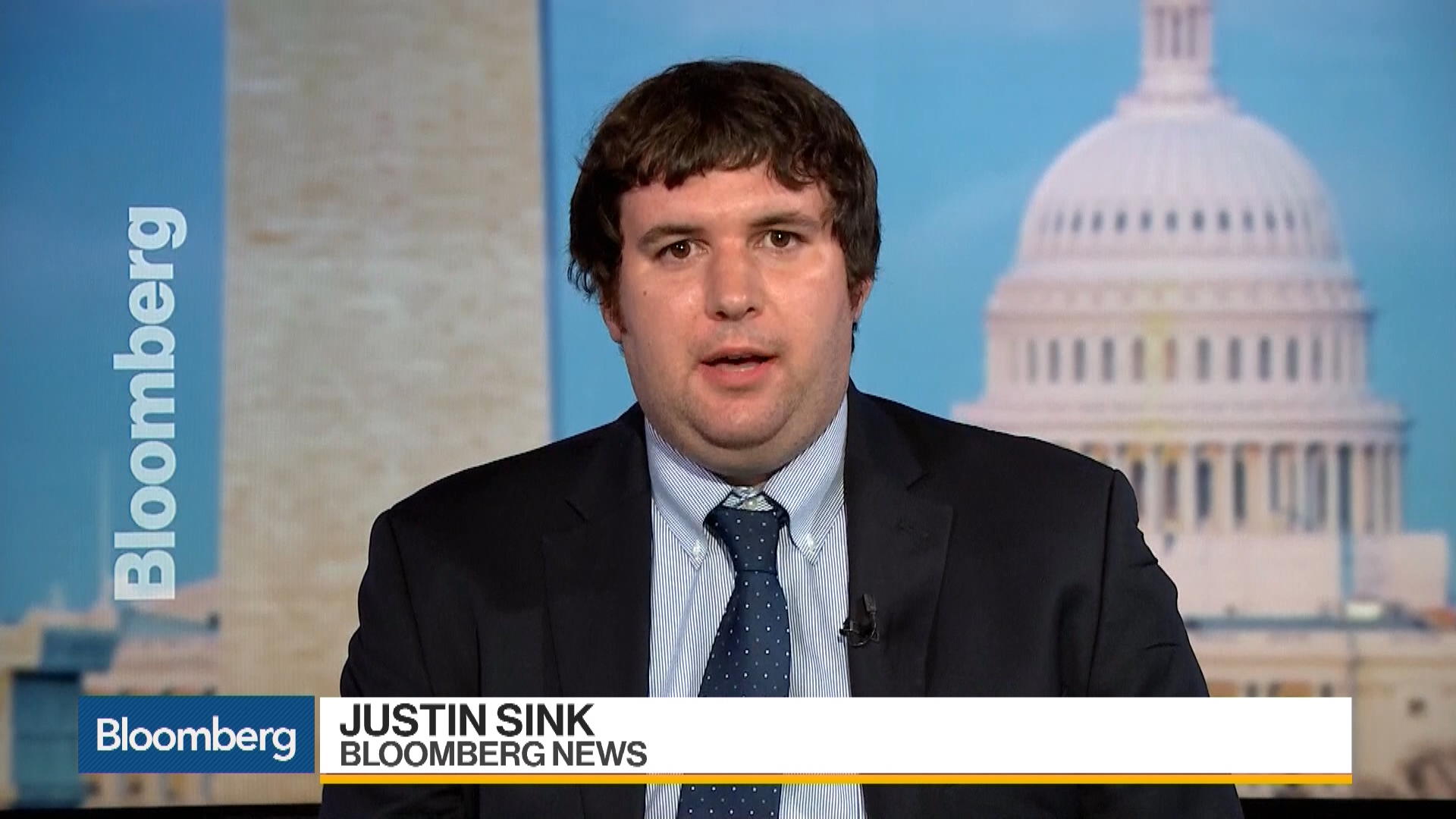 Majority Leader Mitch McConnell started the year with a reputation as a master Senate puppeteer. These days, he's looking more like the puppet.
McConnell was mostly a bystander on Tuesday as events in the Senate went from bad to worse. Another Obamacare repeal effort collapsed. A hard-right Alabama conservative who vilifies him by name won a Senate GOP primary. And one of his closest allies in the chamber, Bob Corker of Tennessee, said he will retire after next year.
Both Corker's retirement and Roy Moore's victory over McConnell-backed Senator Luther Strange in Alabama reflect the growing wedge President Donald Trump has driven between Republicans in Congress and his own base. It's a base even Trump can't entirely control, given that the president vocally and repeatedly endorsed Strange, while his former chief strategist, Stephen Bannon, championed Moore.
But McConnell's setbacks inside the Senate have been more profound. During his years in the Senate minority, he showed a mastery of Senate tactics when it came to stymieing Democratic bills and slowing down Barack Obama's agenda. Now in the majority, he's shown no similar acumen in passing legislation, sowing doubts on his ability to deliver on the next major Republican promise: an ambitious tax overhaul.
McConnell has one major partisan victory to point to so far -- the confirmation of Neil Gorsuch to the Supreme Court seat he kept open by denying Obama a vote on his nominee to replace the late Justice Antonin Scalia. 
Obamacare Repeal
But aside from rolling back more than a dozen Obama-era regulations -- where he relied solely on Republican votes -- his legislative agenda has been overrun by the months-long, wrenching fight over the Affordable Care Act. The effort to fulfill a seven-year GOP promise proved both intensely unpopular in public opinion polls and ultimately unsuccessful on the Senate floor.
Republicans never got all that close and in the process, McConnell alienated some of his fellow Republicans. Arizona's John McCain was particularly incensed by the closed-door, short-circuited process that spurned hearings, committee markups and the usual machinery of lawmaking. Instead, McConnell pushed partisan legislation written behind closed doors by leadership and released shortly before a planned vote. 
McCain ended up being a decisive "no" vote on repeal. The Arizona senator said Wednesday the blame for the lack of action in Congress doesn't rest solely on McConnell's shoulders.
"I'm not sure whose responsibility it is," McCain said. "It's Republicans, it's Democrats for failure to work with us, it's the environment, it's the polarized political scene in America. It's a whole lot of things."
The failure of the Obamacare repeal is also a reflection of a fractured Republican caucus that's unused to governing and hostile to compromise. The Senate GOP remains deeply split, bracketed by rock-ribbed conservatives like Rand Paul of Kentucky and independent-minded moderates like Lisa Murkowski of Alaska.
A person close to McConnell said there's no guarantee that a different process like going through the committees would have produced a different result. And doing so would have exposed members such as endangered Nevada Senator Dean Heller to numerous politically awkward votes.
Plans Torpedoed
There were several other moments where McConnell's best-laid plans were torpedoed by Trump or the more independent members of his own conference. That includes the failure to woo Democratic Senator Heidi Heitkamp of North Dakota to join Trump's Cabinet, which would likely have resulted in a crucial additional Republican vote. And in January, when McConnell hoped to use the momentum of Trump's inauguration to quickly pass a lightning strike, repeal-only bill, Trump and senators including Paul instead called for slowing down and passing an Obamacare replacement at the same time.
Aides see that decision as a crucial mistake, because if they had passed the repeal early on, they would have had leverage to force Democrats to the table to work on a replacement package later -- and the time to move on to other agenda items.
Trump's lobbying of senators, meanwhile, didn't always help, in particular with Murkowski, who rolled her eyes at the administration's clumsy talk of threats to Alaska for voting no.
But the failure proved intensely frustrating to many senators, some of whom started pointing fingers.
Lack of Leadership
"There is a complete lack of congressional leadership and no accountability to get results," said Senator David Perdue, a top Trump ally, in a statement. "From the get go, three Republican Senate chairmen failed to support our efforts to repeal and replace Obamacare as we have all promised to do," he said in a reference to McCain, Murkowski and Susan Collins of Maine, each of whom hold gavels.
But McConnell's caucus may only be growing more unmanageable.
In the Alabama race, allies of McConnell had spent millions of dollars to prop up Strange, the appointed replacement for Jeff Sessions after he left the Senate to become attorney general. If Moore wins the general election in December, McConnell will have yet another unreliable vote in his caucus as he navigates a very challenging tax fight -- and assorted deadlines on the budget and the debt ceiling -- heading into an election year.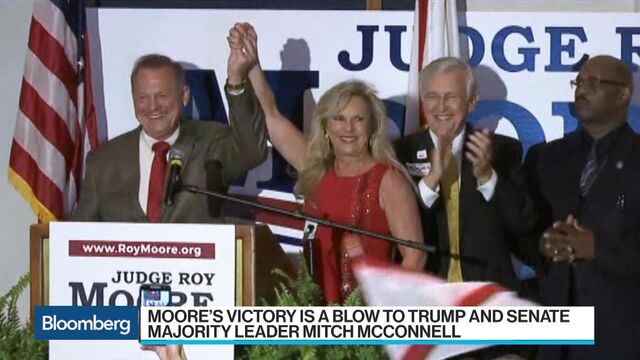 McConnell, meanwhile, is looking ahead to a tax overhaul, an issue he has said should be easier since all Republicans have said they want a simpler tax code with lower rates. But then again, they also told voters they were for repealing and replacing Obamacare too.
Fresh Start
Republicans say they're hoping for a fresh start, with health repeal shelved for now. Some had worried that repeal advocates like Lindsey Graham of South Carolina would insist on tying repeal to the tax overhaul, but leaders appeared to successfully squash that idea Tuesday.
If Republicans can't get a tax bill done, they could end the year without any major legislative achievements. Republican Senator John Kennedy of Louisiana told reporters if the tax bill fails too, "I may go home and put a bag over my head. And hide my head in a bag."
Senator Dick Durbin of Illinois, the No. 2 Democratic leader, said McConnell bears plenty of blame for the GOP's sputtering agenda, because he began the year with plans to use Senate procedures to avoid needing Democratic votes on health care and taxes. Durbin says the early move poisoned the atmosphere.
"The flowers hadn't wilted from the swearing-in before Senator McConnell announced he was going to take the partisan route of reconciliation. And it set a bad tone for the beginning of the session," Durbin said. "I hope by now in the month of September we've learned that working on a bipartisan basis may take a little longer, it might be a little more complex, but it's the best way to produce good legislation."
Broad Support
The rocky start for McConnell doesn't mean his leadership position is in trouble, however, because he still enjoys broad support among Republicans in the Senate who elected him.
"I do not detect that he has problems in the caucus, and that's all that matters," said Jennifer Duffy, Senate editor of the nonpartisan Cook Political Report.
Graham, who authored the last-ditch Obamacare repeal Republicans were discussing this week, said he doesn't blame McConnell for its collapse.
"I can tell anybody who wants to know Mitch McConnell could not have helped more," he said.
But he said the party needs to step up when it comes to taxes.
"When you're a leader, you know, things stick to you good and bad," Graham said. "Results fix everything. The best hope for Mitch McConnell, the best hope for the Republican Party is to deliver."
"The antidote to all this misery is," he said, "legislative success."
Before it's here, it's on the Bloomberg Terminal.
LEARN MORE