Macron Seizing Window of Opportunity to Squeeze French Deficit
By and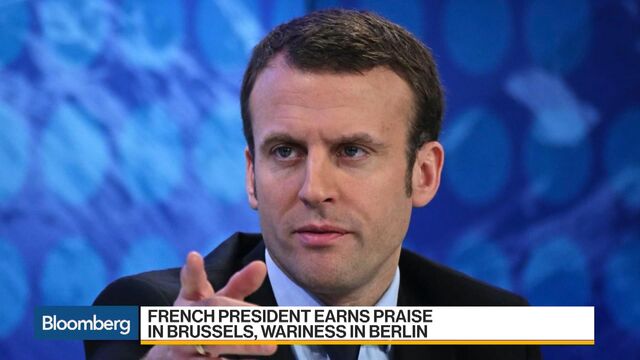 For France, the time to cut public spending and narrow the deficit is now, Finance Minister Bruno Le Maire said.
President Emmanuel Macron's government plans to cut spending to the lowest in a decade in 2018 and trim the deficit to 2.6 percent of gross domestic product product from 2.9 percent this year. The aim is to get the fiscal position close to balance in five years, according to the budget presented Wednesday.
With the economy showing its first real recovery since before Europe's sovereign debt crisis and unemployment edging lower, the four-month-old government is pre-emptively acting before any unforeseen crisis forces a change of direction. Risks to growth include the high level of private debt, the strength of the euro and geopolitics, Le Maire said.
"The window of opportunity is now, it can close tomorrow, it needs to be taken advantage of immediately," Le Maire told journalists at the finance ministry in Paris. "We need to move quickly."
The deficit and spending cuts are the second major economic move made by the Macron administration after he implemented a landmark labor market reform last week.
Le Maire set out a five-year budget plan Wednesday that aims to reduce the deficit to 0.2 percent of GDP by 2022, while reducing public spending by 4 points to 50.9 percent. The tax burden will decline to 43.6 percent from 44.4 percent last year.
The budget outlook is also directly aimed at giving France authority in economic policy discussions within the European Union. France and Spain are currently the only two countries among the 19 euro zone nations that are in breach of the EU's deficit rules and thereby subject to the bloc's excessive deficit procedure.
'Transform Europe'
"To transform Europe, you have to respect Europe," Le Maire said. "France in excessive deficit procedure is a France that loses all credibility."
Macron on Tuesday laid out a vision of the EU that he said offers the bloc's population real sovereignty to defend their interests and project their values in a globalized world.
His proposals ranged from European policies covering defense, migration, 
universities, intelligence and asylum, as well as a new joint office to invest in innovations, a European prosecutor to fight terrorism and an industrial program to foster clean vehicles. He also said that the euro zone is the core of the European project and offers its members the prospect of economic power to rival China and the U.S.
Before it's here, it's on the Bloomberg Terminal.
LEARN MORE