Johnson Calls for Not Too Long Brexit Transition, Guardian Says
By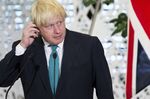 Foreign Secretary Boris Johnson has called for a Brexit transition period that isn't "too long," potentially reviving tensions with Prime Minister Theresa May days after she called for a two-year transition, the Guardian reported.
"You can imagine what our brilliant companies are able to do," Johnson told the inauguration of the Institute for Free Trade on Wednesday, according to the newspaper. "When they are finally, and let's hope the date is soon upon us without too long a transition period, when they are finally unbound, unshackled,"
Johnson's latest intervention comes a week after speculation he was ready to quit his job over concern May was making too many concessions in her Brexit strategy. The prime minister last week sought to break the deadlock in negotiations with the European Union in a speech in Florence which offered clarity on the transition arrangements she wants after the split, as well as a willingness to settle the U.K.'s financial obligations.
Choosing to launch the institute at the Foreign Office's Colonial Map room, implying official government support for an organization dedicated to accelerating the point at which Britain can strike new trade deals, may further fuel tensions within the cabinet, the Guardian said. The event was also attended by Environment Secretary Michael Hove and Trade Secretary Liam Fox, two prominent supporters of Brexit.
Before it's here, it's on the Bloomberg Terminal.
LEARN MORE