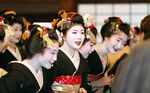 Does Japan Inc. deserve a second look?
For more than three years, Japan's $1.3 trillion Government Pension Investment Fund has been buying domestic firms with better environmental, social and governance (ESG) scores, hoping to use its market power to improve corporate behavior. In July, GPIF said it had already invested 3 percent of its 35 trillion yen ($311 billion) domestic stock portfolio in three ESG indices, and aimed to raise its domestic exposure to 10 percent. 
Foreigners have long lost interest in Prime Minister Shinzo Abe's so-called third arrow, or structural reforms to boost growth. Institutional investors are pulling money away for a second year running.

But there is tentative evidence that Japan's stock market is starting to reward firms with better corporate governance.
Were an investor to build a portfolio of Topix companies that rank in the top 10 percent in terms of the percentage of independent directors on their boards, equal weight it and then rebalance it monthly, they would have generated 33 percentage points more than the benchmark, a Bloomberg Gadfly analysis of stocks shows. The alpha only started to appear just over a year ago, when foreigners began to exit.

On average, stocks in this ESG portfolio trade at 23.7 times forward earnings, versus 16.5 times two years ago. That measure for the Topix has remained broadly unchanged.
A similar picture emerges if different corporate governance metrics, such as the percentage of women on a board, are used.
To be sure, these are just green shoots. The portfolio of companies that rank high on board independence is crowded with technology firms -- almost a quarter fit that category -- while the group with a higher presence of women includes quite a few consumer discretionary stocks. Both sectors have performed well over the past 12 months.
Investors are still worried GPIF may be more talk than action, and haven't followed in its footsteps. The five stocks with the highest relative weightings in the three ESG indices that GPIF tracks haven't outperformed since July.

Patience is needed. Consider the JPX-Nikkei Index 400, favored by Bank of Japan and GPIF portfolio managers. Unlike conventional stock indexes, the so-called Shame Index only includes companies that demonstrate a commitment to making money for shareholders, as measured by return on equity and other factors. Its investors haven't seen much upside.

Blame equity holders' short-term mentality: According to Smartkarma analyst Travis Lundy, the Shame Index's turnover is too high. Since its launch less than four years ago, out of the original 400 names, 118 have been removed and seven of those have been added back in. By comparison, Gadfly's ESG portfolio of independent directors has hardly had any such shuffling. Companies in Japan tend to retire old directors and elect new ones during their fiscal year reporting season in April. So outside of April and May, there's little changeover action.
What are some key takeaways from all of this? One, for sure, is that day traders rarely generate long-term alpha. And a second: Give Japan Inc.'s ESG push another chance.
Before it's here, it's on the Bloomberg Terminal.
LEARN MORE