Iraqi Kurds Choose Independence in Face of Regional Backlash
By
'Yes' vote was 92.7%, Kurdistan election commission says

Monday's referendum drew criticism, threats from neighbors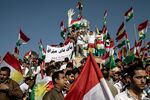 Iraqi Kurds voted overwhelmingly in favor of independence, risking retaliation from neighbors as well as the government in Baghdad who have pledged to do whatever it takes to prevent secession.
Almost 93 percent of 3.3 million eligible ballots backed statehood, the Kurdistan High Election Committee said in a press conference in Erbil on Wednesday. Results will be considered final after approval from Kurdistan's Court of Appeal, according to a report by the Kurdish Rudaw news service.
Voting took place in three provinces ruled by the semi-autonomous Kurdistan Regional Government in northern Iraq as well as in disputed areas around the oil hub of Kirkuk -- though the repercussions are already being felt further afield. More than 30 million Kurds are dispersed across the borders with Syria, Iran and Turkey with separatist ambitions of their own.
Read More: Iraq's Kurds Seek Independence: What Impact for Oil Markets
"Now it's time to engage in serious dialogue with Baghdad, neighbors and international community to negotiate our next step," Safeen Diyazee, spokesman for the KRG, said on Twitter.
Turkish President Recep Tayyip Erdogan has hinted he may halt Kurdish oil exports via a pipeline to Turkey's Mediterranean coast, while the referendum was condemned by a majority of Iranian lawmakers as "a destructive action." Iraqi authorities moved to isolate the Kurds, vowing to take control of official border crossings linking their region with neighboring countries, and restrict international flights.
"We will impose the authority of the federal government in the Kurdistan region with the power of the constitution," Iraqi Prime Minister Haider al-Abadi said in a statement on his website on Wednesday.
Halting Flights
Iraq's civil aviation authority said flights to and from Erbil and Sulaymaniyah airports will be suspended from 6 p.m. local time on Friday, according to a statement from Turkey's consulate general in Erbil.
The vote would "increase instability and hardships for the Kurdistan region and its people," U.S. State Department spokeswoman Heather Nauert said in a statement before the result was announced, and called on all sides to "engage constructively in a dialogue to improve the future of all Iraqis."
The Iraqi Kurds' president, Massoud Barzani, said before the vote that their partnership with Iraq had failed. He called for calm and said he was ready for "very long" talks with the government in Baghdad -- possibly lasting years -- on issues from borders to oil exports and water once votes have been counted. Iraq has declared the vote unconstitutional.
Some analysts have suggested Barzani is more interested in forcing the Iraqi government to resolve long-standing arguments over territory and oil revenue than pursuing a complete split.
Grievances
The Kurds, who make up about one-fifth of Iraq's 38 million people, have longstanding grievances against the government in Baghdad. Saddam Hussein used chemical weapons against them, displacing or killing countless members of the community. The enclave won a large degree of autonomy under the protection of U.S. air power in the 1990s, which was enshrined in the post-Saddam Iraqi constitution adopted in 2005. Since then, nationalism has deepened as Kurdish troops, known as peshmerga, scored battlefield successes against Islamic State and brought the city of Kirkuk under their control.
Turkey fears the independence vote could set back its own campaign to stamp out a Kurdish insurgency it's been battling for three decades, but its officials have also expressed concern that a military response from Baghdad could trigger an exodus of Iraqi Kurds toward Turkey.
The vote was "laying the ground for hot conflict," Turkish Prime Minister Binali Yildirim has said.

— With assistance by Dana Khraiche
Before it's here, it's on the Bloomberg Terminal.
LEARN MORE