Tax Cut Fever Breaks in Stocks as Earnings Impact Is Studied
By
S&P 500 ends near a record as Trump outlines his proposal

Lower corporate taxes are bullish but what about interest?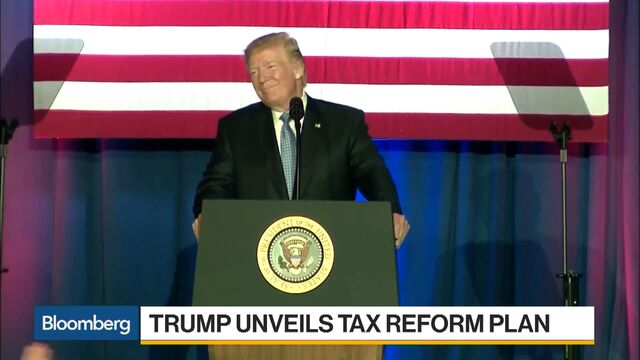 A single-session celebration looked poised to fade in stocks following the release of Donald Trump's tax overhaul, as questions lingered about its long-term impact on earnings.
"The proposal is very specific about the good stuff. It's kind of nebulous about the bad," said Brad McMillan, chief investment officer of Commonwealth Financial Network, which oversees $114 billion. "It's a wonderful present to the market, but we've got to unwrap it to see what's really in there."

Led by small caps and companies with the highest tax rates, the S&P 500 Index rose as much as 0.6 percent Wednesday, ending 1 point from a record as Trump and Republican leaders launched a plan they hope becomes a major legislative win. The rally brought to almost $3.9 trillion the amount of share value created since just before Election Day.
Futures on the S&P 500 slipped 0.2 percent as of 8 a.m. Thursday in New York.
The extent to which equity appreciation and Trump policy are related has been endlessly debated with particular emphasis on the impact of his tax promises. On its face, there was a lot for bulls to like in Wednesday's proposal, such as the lowering of corporate taxes to 20 percent from 35 percent. Goldman Sachs says that would raise annual per-share earnings in the S&P 500 by $15.
At the same time, too many loose ends exist in the specifics to declare a windfall for corporate earnings with any confidence.
Among them is persistent ambiguity over how interest payments will be taxed. The plan calls for limiting the interest deduction companies can take on their borrowing while leaving out additional details. Congress's tax-writing committees will be tasked with redrawing other business credits to help generate additional revenue.
Ned Davis Research earlier this year ran a scenario analysis to illustrate the drag on earnings should interest expenses no longer be deductible. It calculated that a 20 percent tax rate would boost profits by 7.2 percent, but once those deductions are removed, the benefit shrinks to 2.6 percent. In other words, about two-thirds of the gain from tax cuts would be wiped out.
While the exercise was based on an extreme case, it shows how sensitive S&P 500 earnings are to the change in a single line of deductions. Other than research and development and low-income housing, the new proposal says "numerous other special exclusions and deductions will be repealed or restricted."

In the world of megacap equities, a hodgepodge of overseas subsidiaries and deductibles mean very few companies pay anywhere near 35 percent. In the S&P 500, the effective tax rate is 27.6 percent, according to data compiled by Howard Silverblatt, senior index analyst at S&P. On average phone and industrial companies pay the most at 30 percent or more, while real estate, energy and tech industry have the lowest, no more than 18.5 percent.
To be sure, almost anything could've sparked Wednesday's rally, among them perceptions that Republican unity has raised the likelihood that tax reform gets passed. Investors may not care about any single line item, choosing instead to speculate Trump's plans will jack up economic growth.
None of this matters if the bill doesn't make it through Congress and at least one brokerage sees a sticking point embedded in the proposal unveiled today, the tax on profits booked overseas.
According to Strategas Research Partners LLC, a hidden risk lies in a proposed shift to a territory system, where companies are taxed based on where their profits are earned. Currently, the U.S. imposes taxes on corporate profits worldwide, a policy that has prompted firms to keep earnings overseas. While the new framework calls for a lower tax to encourage multinationals to repatriate that money, it also includes rules to levy at a reduced rate foreign profits "to prevent companies from shifting profits to tax havens."
"Imposing new base erosion protections is likely to be controversial and could derail corporate tax reform," said Daniel Clifton, head of policy research at Strategas. "U.S. multinationals are not going to like this proposal. In fact, we have heard from a number of companies on this" because it's "viewed a cash cow for politicians and will be raised over time," he wrote.
Despite all the nuances, investors have clearly warmed again to the idea of tax cuts heading into this week. A Goldman Sachs basket of companies that pay the highest rates just beat the market for a sixth straight day while the Russell 2000 Index of smaller companies is heading for the best month since the November election.
The rally came after the groups had erased almost all their outperformance from the early days after the election. At the start of week, Wolfe Research chief investment strategist Chris Senyek said getting the tax reform passed was priced into the stock market as a low-odds event, with a one-in-three chance of happening.
"The low bar was met," said Chris Krueger, a senior policy analyst at Cowen & Co., adding he still believes nothing will pass on taxes this year or next.
— With assistance by Felice Maranz
Before it's here, it's on the Bloomberg Terminal.
LEARN MORE