France Leaves Door Open for Bombardier to Join Siemens Alstom
By , , and
Any move to make rail giant more powerful is to be considered

Bombardier left on sidelines after talks with Siemens failed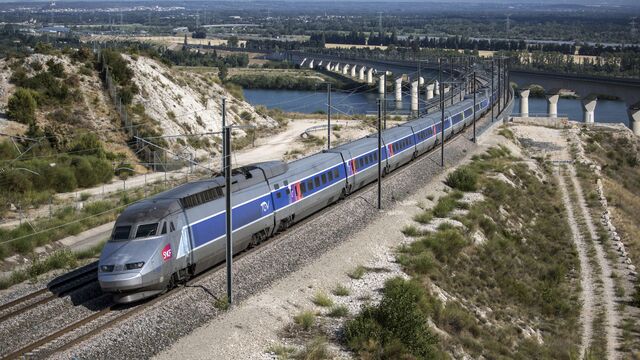 France is open to the possibility of expanding the rail combination between Siemens AG and Alstom SA to include Bombardier Inc., the Canadian trainmaker left on the sidelines of talks to create an industry champion to take on China.
"If we can expand this global rail champion even more, to make it even more powerful faced with China and the U.S., then so much the better," French Finance Minister Bruno Le Maire told reporters at a press conference in Paris Wednesday.
The French and German companies are creating a merged business with 15 billion euros ($18 billion) in combined sales, in a bid to stop the advance of giants including Beijing-based CRRC Corp. and Hitachi Ltd. of Japan. The combination will leave Canada's Bombardier alone among big players in Europe, where it has a large presence, and possibly hamper its recovery plans. The Siemens-Alstom deal was announced after months of talks between Siemens and Montreal-based Bombardier.

Alstom Chief Executive Officer Henri Poupart-Lafarge said expanding the partnership wasn't a priority at the moment. "We are celebrating our wedding, and you are talking about the babies," he told reporters, when asked about the expansion of the union.
"We create a global platform which aims to be a global leader and a European champion," he said. "We have to recognize that we have a lot of things on our plate, so I don't think we will engage in any type of discussion the day after tomorrow."
Poupart-Lafarge also told analysts that the deal wouldn't impact the two companies' relationships with Bombardier. Alstom and the Canadian firm won a 3.3 billion-euro contract to supply double-decker cars to the Belgian national railway through 2021 and are working together on trains for the Paris region's commuter network and Montreal's subway system. Siemens and Bombardier have also worked together, including to develop rail control systems for New York city.
Before it's here, it's on the Bloomberg Terminal.
LEARN MORE