Five Things You Need to Know to Start Your Day
Get caught up on what's moving markets in Asia.
By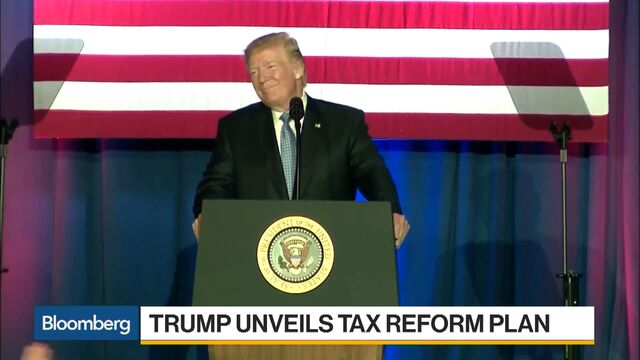 Want to receive this post in your inbox every morning? Sign up here.
Republican tax plan unveiled, Trump trade gets resurrected, and the RBNZ stands pat. Here are some of the things people in markets are talking about.
Tax Reform
Republicans unveiled their nine-page blueprint for tax reform on Wednesday, which reduces the number of individual brackets, eliminates the estate and alternative minimum taxes, and removes some popular tax deductions. Speaking in Indiana, U.S. President Donald Trump billed the plan as a "revolutionary" win for American workers. He pledged that the corporate tax rate would be lowered to at least 20 percent in a bid to incentivize domestic activity and employment. Contrary to Trump's assertions, however, the proposal offers more than $1 trillion in tax breaks for the wealthiest Americans. Moreover, some senators may be wary of how much the tax cuts could boost the budget deficit. Here's a handy explainer of the tax jargon you'll be exposed to as the proposal evolves. Investors had tentatively begun to favor firms thought to be prime beneficiaries of tax reform in the run-up to Wednesday's announcement.
Trump Trade Resurrected
High-taxed U.S. small-caps basked in the glow of optimism around tax reform. The Russell 2000 Index set another record and outperformed the S&P 500 Index by the most since November. Tech stocks and banks paced gains. But tax reform and positive economic data proved to be kryptonite for Treasuries. Longer-term yields, which have been stuck in a rut, surged on Wednesday, with the U.S. 30-year Treasury yield rising by the most this year. The synchronized increase in stocks, Treasury yields, and the U.S. dollar is a sign the so-called 'Trump trade' might be back on. West Texas Intermediate futures rose to above $52 per barrel as data from the Energy Information Administration showed record domestic crude exports.
RBNZ Holds
The Reserve Bank of New Zealand held rates unchanged at record lows on Thursday in its first decision since Graeme Wheeler's departure. Acting Governor Grant Spencer cautioned the economy would continue to require monetary stimulus for some time, fostering selling pressure in the kiwi. Coming up: inflation in South Korea is forecast to decelerate in September, with economists expecting the core rate to dip a tick to 1.7 percent year-on-year while the annual headline rate falls to 2.2 from 2.6 percent. We'll also get the weekly update on Japanese international securities transactions as well as the share of Swift global payments made in yuan and Australian job vacancies as of August. Boston Fed President Eric Rosengren will deliver a speech in New York at 8:00 a.m. Tokyo time.
Futures Up
S&P/ASX 200 and Nikkei 225 futures are trading in positive territory ahead of the open. Investors seem somewhat skittish about Japanese equities in light of the snap election, however, judging by recent outflows from the iShares MSCI Japan ETF. Japanese stocks were a drag on the MSCI Asia Pacific Index on Wednesday as over 1,000 firms traded ex-dividend. Meanwhile, Wall Street is telling investors to load up on emerging market equities after the recent pullback in shares.
Bombarded
Negotiators from the U.S., Canada, and Mexico said they've made some progress in renegotiations of the North American Free Trade Agreement -- but not on any controversial topics. The talks may be further complicated after the U.S. levied import duties against Bombardier Inc.'s C Series jets. Boeing Co. complained that the aircraft, which has been championed and supported by Canadian provincial and federal politicians, had been unfairly subsidized. Shares of the transportation manufacturer crash-landed, slumping 7.5 percent in Toronto. Canadian Foreign Affairs Minister Chrystia Freeland says she spoke with U.S. Trade Representative Robert Lighthizer about the issue, and plans to speak with Commerce Secretary Wilbur Ross too. The decision could also leave U.K. Prime Minister Theresa May with a bitter taste in her mouth, as Bombardier employs 4,000 people in Belfast.
What we've been reading
This is what caught our eye over the last 24 hours.
Quotes from this Article
Before it's here, it's on the Bloomberg Terminal.
LEARN MORE