Fear Not: U.K. Tax Authority Is Ready for No-Deal Brexit in 2019
By and
Outgoing chair of HMRC says work is focused on customs systems

'We'll be ready for whatever option,' Troup says in interview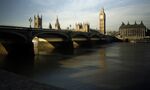 The U.K.'s tax authority will be ready if Britain crashes out of the European Union in 2019 without a deal.
So says Edward Troup, the outgoing executive chair of Her Majesty's Revenue and Customs. In an interview in Oslo on Wednesday, he said new customs arrangements will be needed if Prime Minister Theresa May and her Brexit Secretary David Davis fail to secure a transitional period that replicates the status-quo of tariff-free trade with the 27 other members of the EU.
"We'll be ready for whatever option agreed," said Troup."If there is no implementation period then from the end of March 2019 we would have to apply customs rules, which is quite soon. But we've done implementation of projects in shorter periods of time."
Troup, due to retire at the end of the year, said there are about 130,000 British businesses that trade with the EU. "We would need to make sure they were registered and were able to do business with us if they had to apply customs duties," he said.
In a key speech last week, May floated the possibility of a post-Brexit interim period of about two years. But that is by no means a certainty as the EU insist that the financial settlement --among other things -- must be sorted out first.
Before it's here, it's on the Bloomberg Terminal.
LEARN MORE