EU Parliament Set to Draw Brexit Red Lines Testing U.K.'s Limits
By
Parliament will demand European Court jurisdiction after 2019

Resolution will be put to a vote next week in Strasbourg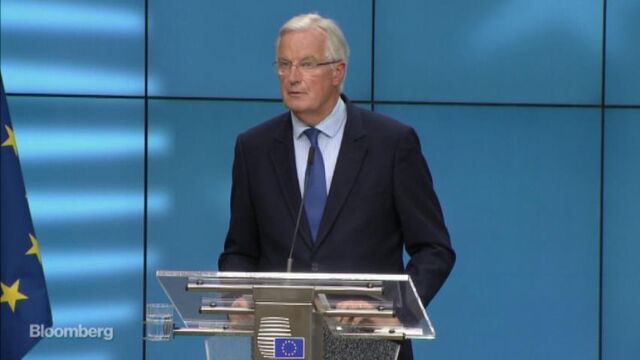 The European Parliament is set to demand that the European Union's top court retains its powers on British soil after 2019, in a resolution that could test the limits of U.K. Prime Minister Theresa May's room for maneuver in Brexit talks.
The resolution by the EU's legislative body, which has veto power over any Brexit accord, will be put to a vote in Strasbourg next week and will seek to ensure that the European Court of Justice's "jurisprudence is directly applicable and enforceable in the U.K. in order to guarantee the coherence and integrity of the EU legal order," according to a document circulated to lawmakers. 
"ECJ must remain the sole and competent authority for interpreting EU law and the withdrawal agreement," according to the paper, which outlined the main points of the resolution.
Continuing application of EU law in the U.K. after 2019, when the country is set to leave the bloc, is among the thorniest separation issues negotiators must resolve before talks on a future relationship between the two sides can begin. While the bloc's 27 remaining states have welcomed May's "more realistic tone" in her Florence speech last week, they insist her concessions don't go far enough, suggesting that prospects of starting trade talks as soon as next month continue to fade.
Even though both the U.K. and the EU agree that a transition will be needed to cushion the impact of Brexit, the bloc's terms for such an arrangement may trigger a backlash from U.K. government officials who have promised that Britain will regain its legislative sovereignty in 18 months.
'We Will Leave'
The "transition can only be envisaged under the full jurisdiction of the European Court of Justice," the EU Parliament will say, according to the document obtained by Bloomberg. That stands in contrast with comments made by U.K. Brexit Secretary David Davis during a Sunday interview on the BBC: "I mean firstly in 2019 we will leave. We'll come out from under the jurisdiction and the law-making of the European Union."
Until now the EU has refused all U.K. attempts to talk about the future until there's "sufficient progress" on separation issues. May's pledge to plug the black hole in the EU budget during a transition period could persuade European leaders to be more flexible by allowing talks on this interim phase to start before the divorce negotiations are completely finished.
Michel Barnier, the EU's chief Brexit negotiator, signaled on Monday that leaders at their summit in October might allow him to take the transition phase into account. "Partial links between divorce and transition might be explored" at the summit, according to the Parliament document.
— With assistance by Ian Wishart, and Viktoria Dendrinou
Before it's here, it's on the Bloomberg Terminal.
LEARN MORE