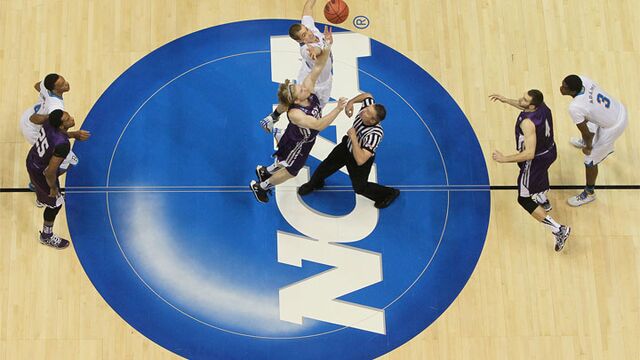 College sports in America, plagued by scandals ranging from sex abuse to academic cheating, were rocked again this week when federal prosecutors busted 10 people, including assistant basketball coaches, managers, financial advisers and representatives of sportswear companies, accusing them of bribery and fraud. The Federal Bureau of Investigation says its three-year inquiry found that illicit payoffs were being made to steer young athletes to powerhouse schools, into sportswear contracts and to specific financial consultants. More charges may be coming.
1. What makes this criminal?
The U.S. Department of Justice alleges that those involved committed a variety of federal crimes, and not that they violated the rules of the National Collegiate Athletic Association (though they may have done that, too). The acts include fraud, solicitation or payment of bribes, and conspiracy to commit "honest services" fraud -- violating the intangible right of an institution or company to expect its employees to conduct themselves honestly. It's also illegal for a coach employed by a university that receives federal funds to accept a bribe. According to the government, those charged face maximum prison sentences ranging from 80 years to 200 years.

2. Who's involved?
The biggest name is probably Rick Pitino, the controversial head coach at University of Louisville who, over almost 40 years, is one of college basketball's winningest coaches. Prosecutors said at least two Louisville coaches were involved in plans to funnel money from Adidas, the athletic-wear company, to high-school prospects. Pitino wasn't charged. Another big fish: Chuck Person, a former National Basketball Association star and now associate coach at Auburn University. He's accused of taking a $15,000 cash bribe and lying to prospects by saying he used certain financial advisers when he didn't. James Gatto, the head of global sports marketing at Adidas, is also alleged to have conspired with coaches to pay high-school players or their families -- in one case funneling $100,000 to a top player's family -- for their commitment to attend a university whose athletic program Adidas sponsors. Others include assistant coaches at Oklahoma State, the University of Arizona and the University of Southern California.
3. What's been the fallout?
The schools acted quickly and harshly. Louisville coach Pitino and the university's athletic director, Tom Jurich, were put on administrative leave Sept. 27 after the program was linked to the corruption scandal. Auburn's Person has been suspended without pay. Oklahoma State's Lamont Evans and Arizona's Emanuel "Book" Richardson, both assistant coaches, were also suspended by their schools. USC said it was placing assistant coach Anthony Bland on administrative leave and hiring former FBI Director Louis Freeh to lead an internal investigation.
4. What's the potential defense?
Those charged will likely try to distinguish between what is considered a violation of the rules of the NCAA, which oversees college sports and requires student-athletes to remain unpaid amateurs, and federal law. They're likely to argue their acts were no different than what was standard practice in the industry, said Darren Heitner, a lawyer in Fort Lauderdale, Florida, and author of "How to Play the Game."
5. What are the NCAA rules?
The NCAA insists that colleges treat their athletes as students first, and not professional athletes, according to its website. College-bound and current student-athletes must preserve their eligibility by meeting NCAA amateurism requirements. Students aren't allowed, for example, to make money from commercials or endorsements if they were chosen for their athletic ability or accomplishments and can only accept prize money if the amount is less than the expenses they incur in participating. Penalties are imposed for violations, based on the severity. Students may be required to repay money they received or sit out a specified number of games. In rare cases, students could be permanently barred from college sports.
6. How have other such cases been handled?
Star NCAA athletes have taken under-the-table payments for decades, and while universities have been punished when caught violating the rules, the FBI didn't get involved -- until now. One of the biggest scandals broke in 2011 when University of Miami booster Nevin Shapiro told Yahoo News he gave money, cars, yacht trips, jewelry and other gifts to 72 of the school's football players and other athletes. Miami was placed on three years' probation by the NCAA and lost nine football scholarships. More than a dozen University of North Carolina football players were suspended in 2010 for accepting improper benefits. Sometimes the rules border on ludicrous: In 2010, University of Georgia football player A.J. Green, now with the Cincinnati Bengals, was suspended for the first four games of the season for selling his jersey from a 2009 post-season bowl game for $1,000 to a former North Carolina football player, whom the NCAA described as an agent.
7. What's next?
The FBI says the investigation is continuing. It has set up a hotline for whistle blowers. The arrests "should also serve as a warning to those who conduct business this way in the world of college athletics," FBI Assistant Director William Sweeney said.
The Reference Shelf
Before it's here, it's on the Bloomberg Terminal.
LEARN MORE