business
Detroit's Big Three to Cede North America Carmaking Lead for First Time
By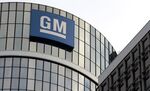 The traditional three big U.S. automakers will make less than half of vehicles produced in North America this year for the first time ever, according to Joe Langley, an analyst with IHS Markit.
General Motors Co., Ford Motor Co. and Fiat Chrysler Automobiles NV will make a combined 8.6 million vehicles in the region this year, Langley said at a briefing in suburban Detroit. That compares with 8.7 million to be produced by Tesla Inc. and manufacturers based outside the U.S.
The gap will widen further in the years ahead, with the Detroit Three seen making 8.1 million units in North America in 2024, compared with 9.8 million by other carmakers, IHS Markit said.

Companies including Toyota Motor Corp., Volvo Cars and Daimler AG have announced $5.5 billion in new U.S. factory investments so far this year, while GM and Ford are cutting shifts or scheduling time off at plants as industry sales slow.
Before it's here, it's on the Bloomberg Terminal.
LEARN MORE