Corbyn 'Primed and Ready' to Shape Socialist Future for Britain
By and
Labour can build on success to beat May's Tories, leader says

Euphoric mood in Brighton as left-wing agenda is laid out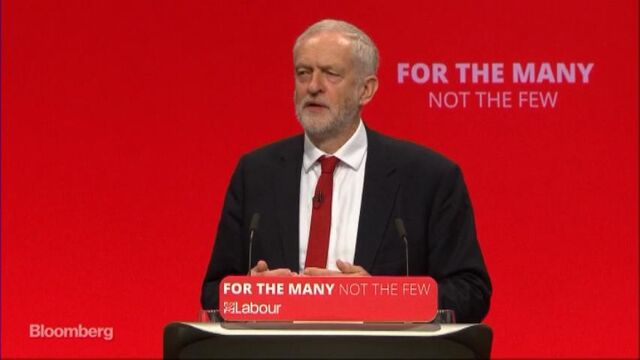 Labour leader Jeremy Corbyn closed his party's conference in Brighton with a call to Prime Minister Theresa May to step aside and an appeal to his euphoric followers to prepare to take over the government of Britain.
After a four-day conference that cemented his position as leader of a socialist revival in the U.K., Corbyn promised a radical left-wing agenda that would seize state control of railways, energy companies and water suppliers.
"We are now the political mainstream -- our manifesto and our policies are popular because that's what most people in our country actually want, not what they're told they should want," Corbyn, 68, told cheering opposition activists in the southern seaside city on Wednesday. "The Labour campaign machine is primed and ready to roll."
Brexit Bullet
Labour's strong showing in the June election erased May's majority and is the springboard to victory at the next vote, Corbyn said. A weakened May is beset by splits among Conservatives over Brexit and must call an election by 2022. The question is whether she can hold her government together that long.
Having steered clear of splits in his own party over Brexit by dodging a vote at the conference, Corbyn highlighted divisions in May's negotiating team as he pledged to negotiate a "jobs first" break from the EU.
"Respecting a democratic decision doesn't mean giving the green light to recklessness," Corbyn said. "We're not going to be passive spectators to a hopelessly inept negotiating team putting at risk people's jobs, rights and living standards. A team more interested in posturing for personal advantage than in getting the best deal for our country."
Single Market
Corbyn reiterated Labour's pledges to stay in the single market during a transition period and guarantee the rights of EU citizens in Britain: Labour's Brexit approach would "guarantee unimpeded access to the single market" while giving state support to industry that is not permitted under EU rules.
"They're hanging on by their fingertips," Corbyn said of the Tories in his 77-minute address to delegates, which was punctuated by standing ovations. "This is a weak and divided government with no purpose but clinging to power."
He described May's administration as a "coalition of chaos," borrowing the wording of her pre-election warning against a Labour-led government. "We are ready and the Tories are clearly not. They're clearly not strong and they're definitely not stable."
Corbyn promised to introduce rent control and invest in the state-run National Health Service -- improve opportunities for young people and support for the elderly -- in a speech that ran over an hour and capped with rapturous applause.
Messiah Complex
"It was a speech designed to please those in the hall and those members of the party who think he's great and the Messiah," said Steven Fielding, professor of politics at Nottingham University. "But Labour lost the last election. They seem to think more of the same is going to deliver more votes for Jeremy. The polls don't suggest that."
Most recent opinion polls show Labour slightly ahead of the Conservatives, but probably not by enough for a parliamentary majority. A YouGov Plc survey this week still showed May leading Corbyn on who would be the better prime minister by 37 percent to 29 percent.
During the week, the convention hall and meeting rooms repeatedly echoed with chants of Corbyn's name as scarves, T-shirts and comic books for sale celebrated the politician-cum-pop-icon and his completion of the project to wrest back left-wing control of the 117-year-old party after its shift to the center under Tony Blair.
"It was a very inspiring speech that's given me hope for the future," said Georgina Harris, a 53-year-old nurse from eastern England who was wearing a Corbyn badge and scarf. "It felt like a carnival atmosphere."
Trump Criticized
Corbyn was cheered when he attacked Donald Trump's decision to withdraw from the Paris climate-change accord and the U.S. president's speech to the United Nations threatening military action against North Korea.
Labour is in tune with the needs of voters after "politics finally caught up with the crash of 2008," Corbyn said. The conventional argument that elections can only be won from the center, a line followed by Corbyn's predecessors Blair, Gordon Brown and Ed Miliband, needs to recognize that the center ground moves, he told delegates.
"The political center of gravity isn't fixed or unmovable, nor is it where the establishment pundits like to think it is. It shifts as people's expectations and experiences change and political space is opened up," Corbyn said.
The speech -- in keeping with the rest of the conference -- was thin on specific policy detail and did not spell out how the party's spending goals will be funded, other than a suggestion that business will be asked to pay "a bit more."
'Not the Enemy'
Stephen Martin, director general of the Institute of Directors, accused Corbyn of failing to recognize the importance of companies to the British economy.
"Labour may see themselves as a government in waiting, but if they are to govern, they will need to recognize that business is not the enemy," he said. "The shame is that there are plenty of areas where Labour and business could work together effectively."
For Cameron Clack, a 22-year-old student, Corbyn pulled off a rare feat in politics: "he's taken people that were disenfranchised and that had no interest in politics and brought them into the fold."
— With assistance by Robert Hutton
Before it's here, it's on the Bloomberg Terminal.
LEARN MORE