Bombardier Dives on Blow to $6 Billion Bet-the-Company Jetliner
By and
U.S. slaps C Series with 220% tariffs after Boeing complaint

Canadian company's trains sidelined by Siemens-Alstom deal
Bombardier Inc. plunged the most in almost two years after the U.S. levied import duties on the Canadian company's priciest jet, rattling some of Washington's closest allies and aggravating a trade dispute.
Sales prospects for Bombardier's C Series jetliner, which cost at least $6 billion to develop, dimmed after the U.S. Commerce Department slapped it with preliminary import duties of 220 percent. The agency late Tuesday cited a complaint by Boeing Co. that the aircraft had received improper subsidies in Canada.
The levy agitated U.S. partners and even sent ripples across the Atlantic. Canadian Prime Minister Justin Trudeau has been threatening a trade battle, using Boeing military planes as leverage. Meanwhile, U.K. Prime Minister Theresa May said she was "bitterly disappointed." She had tried in vain to persuade U.S. President Donald Trump not to impose the duties -- which could hurt jobs at a Northern Ireland plant.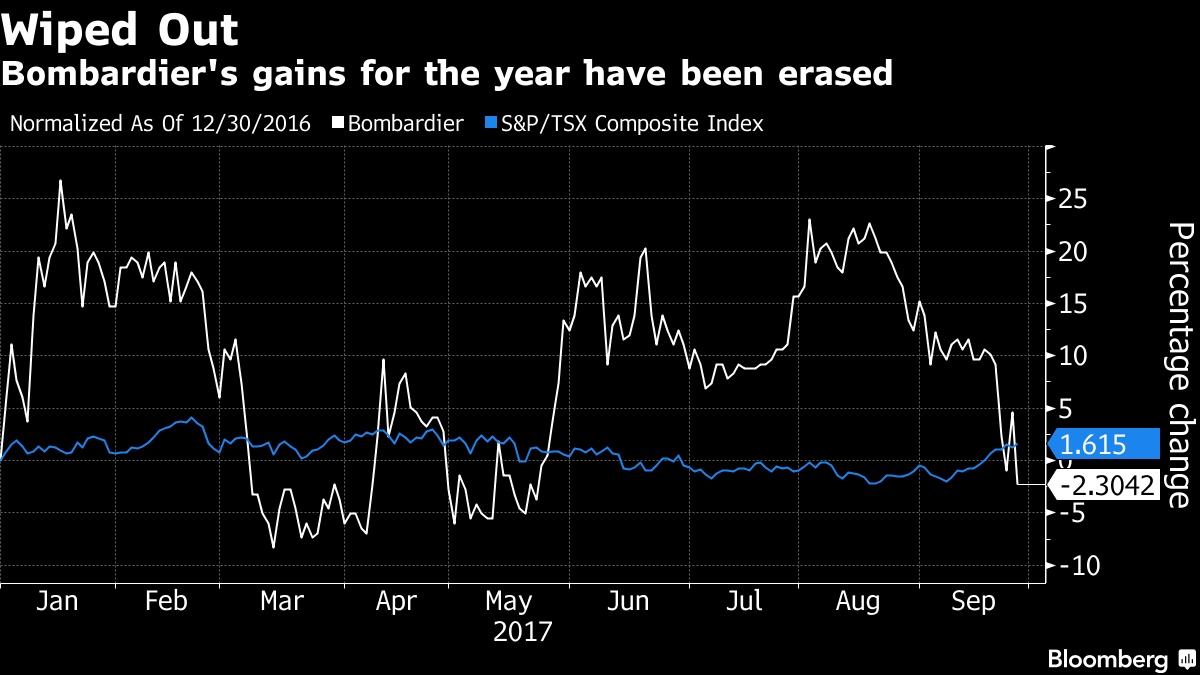 The restrictions create a new hurdle for Bombardier Chief Executive Officer Alain Bellemare, who is trying to turn the company around after the C Series came in more than two years late and about $2 billion over budget. Bombardier hasn't booked a major sale of C Series jets since an April 2016 deal with Delta Air Lines Inc. that had a list value of more than $5 billion -- before discounts that according to Boeing were unfairly large.
"While Delta has publicly spoken highly about the C Series, the risk of this order being rescinded will continue to weigh on Bombardier's share price,'' Kevin Chiang, a CIBC World Markets analyst, said in a note to clients Wednesday. "C Series sales campaigns have likely stalled in the U.S. until a final ruling is made."
Bombardier's widely traded B shares dropped 8.8 percent to C$2.07 at 1:52 p.m. in Toronto after sliding as much as 16 percent for the biggest intraday decline since October 2015.
The company's U.S. dollar bonds fell the most since being issued last year. The price on the 8.75 percent note due in 2021 declined 3 cents on the dollar to $107 on Wednesday afternoon in New York, according to data compiled by Bloomberg.
Rail Loss
The C Series duties compounded an ugly day for Bombardier, which earlier Tuesday was left out in the cold when Germany's Siemens AG spurned the Canadian company as a partner for a major rail merger in favor of France's Alstom SA. That left Bombardier's train-making unit, the company's largest, on its own against the new European giant and Asian heavy hitters such as China-based CRRC Corp. and Hitachi Ltd. of Japan.
The tie-up "threatens the long-term success'' of Bombardier's rail unit, David Tyerman, a Cormark Securities analyst, said in a note. Bombardier still has the potential to participate in consolidation, "but the logical partners appear gone.''
The dispute in aerospace, where Bombardier has invested heavily through the C Series, is roiling trade relations just as the U.S. tries to renegotiate the North American Free Trade Agreement with Canada and Mexico. 
"Even our closest allies must play by the rules," U.S. Commerce Secretary Wilbur Ross said Tuesday as he announced the decision on the Montreal-based company's jets.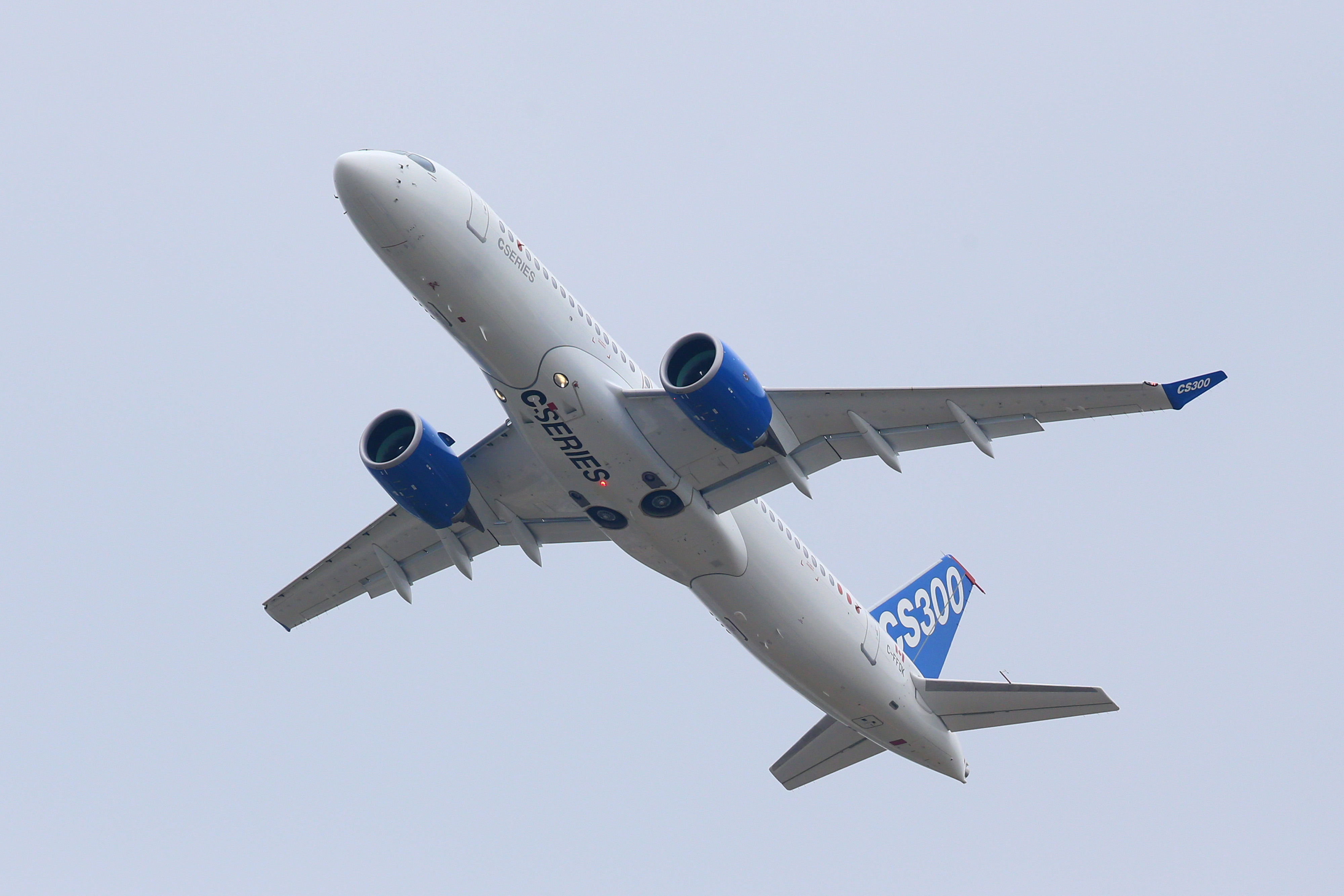 Trudeau called the decision "disappointing" and told reporters that his government would "fight for Canadian jobs." He didn't elaborate. He has said the government won't buy Boeing military jets unless the company drops its case against Bombardier.
The import duties could be reversed by the U.S. International Trade Commission if the tribunal determines that Boeing wasn't injured by Bombardier's jet program. That decision is expected to be made next year.
La Resistance
Quebec Premier Philippe Couillard, who spearheaded the province's decision to invest $1 billion for a 49.5 percent stake in the C Series program, said the move wasn't a subsidy, dismissing Boeing's claim as proof of the company's "bad faith.'' He urged Trudeau to "take a very hard line.''
"Not a bolt, not a part, not a Boeing plane entering Canada as long as this conflict is not solved in a satisfactory way,'' Couillard said at a news conference in Quebec City. "Quebec is attacked, Quebec will resist.''
Bombardier said Boeing was "seeking to use a skewed process to stifle competition and prevent U.S. airlines and their passengers from benefiting from the C Series." The aircraft, which typically carries 100 to 150 seats, entered commercial service last year in Europe. "The magnitude of the proposed duty is absurd and divorced from the reality about the financing of multibillion-dollar aircraft programs," Bombardier said.
'Transparent Course'
Boeing accuses Bombardier of selling its biggest jet in the U.S. at less than fair value, while benefiting from unfair government subsidies. The C Series wouldn't exist without the assistance of the Canadian and Quebec governments, according to the U.S. planemaker.
The trade-dispute process is part of "the longstanding, transparent course for examining and addressing situations where products are 'dumped' into the United States at below-cost prices for the purposes of gaining market share," Boeing said by email.
On one point, Quebec's Couillard appeared to agree with Boeing: that the province's investment was instrumental in saving the jet, if not Bombardier as a whole. 
"Without the way we intervened, without the specific investment in the C Series program, the program would not exist today,'' he said. "There would be no C Series, and there would probably be no Bombardier Aerospace.''
Next Step
The U.S. Commerce Department is expected to decide by Oct. 4 in a separate ruling whether also to impose anti-dumping duties on the C Series. On that matter, Boeing is seeking duties of about 80 percent.
Delta Chief Executive Officer Ed Bastian said that, ultimately, he doesn't expect the U.S. government to impose stiff penalties on Bombardier planes, the level of which essentially closes off the U.S. market. Boeing's complaint that Bombardier competed unfairly was "absurd," he said Wednesday at the Skift Global Forum in New York.
Bombardier and Canada have several avenues to contest the case, though some could take years to play out. Once the International Trade Commission brings its final ruling next year, Bombardier can ask for a judicial review at the tribunal. The company also can take the case to the U.S. Court of Appeals, or ask for a two-nation panel of judges to review the decision under Nafta. Canada could also file a complaint with the World Trade Organization.
In the near term, Boeing will have to establish how it was materially harmed by the C Series sale to Delta. That will be a tough task, said Nicholas Heymann, an analyst at William Blair & Co.
"Boeing does not produce a plane that directly competes with the C Series," Heymann wrote in a note to investors.
Spring Delivery
The Atlanta-based airline agreed to buy at least 75 of the CS100 planes, the smaller C Series variant. Delta has been preparing to take delivery of the jets in the spring, and was expected to allow pilots to bid on flying assignments in the coming months. Those and other preparations will continue, a Delta spokesman said.
But other possible U.S. buyers -- representing about a third of the potential global market, according to BMO Capital Markets -- are likely to think twice before placing any orders in the immediate future.
"The preliminary duty has been set at a shocking (and in our opinion ludicrous) 220 percent, exceeding even Boeing's seemingly ambitious request for about 80 percent," Cameron Doerksen, an analyst at National Bank Financial Inc., said in a note to investors. "It is not clear that this very high preliminary duty is any indicator of the ultimate outcome."
Over the short term, the Canadian company will have to focus marketing outside the U.S., he said.
"Bombardier may be able to find enough international customers to still ramp up production in the next few years," Doerksen wrote.
— With assistance by Michael Sasso, and Maciej Onoszko
Before it's here, it's on the Bloomberg Terminal.
LEARN MORE