Bombardier News Hits 'Bitterly Disappointed' May in Lots of Ways
By
Ruling may damage key employer in politically sensitive region

U.K. prime minister had lobbied Trump personally on issue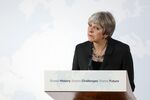 It's no wonder Theresa May says she's "bitterly disappointed" by the U.S. Commerce Department's decision to impose punitive import duties on Bombardier Inc.'s new jetliner. It hurts the U.K. prime minister in several ways at once.
First, it's a blow to a big employer: More than 4,000 work for the company in Belfast, Northern Ireland, where the plane's wings are built.
Second, Northern Ireland is a sensitive area for British politics: It is only because May's Conservatives have the support of 10 lawmakers from the region that she's able to govern.
Third, it's a personal embarrassment: After spending political capital at home to try to build a close relationship with Donald Trump, she raised the issue with him both by phone and in person, with no obvious result.
The opposition Labour Party, while offering support to the government's position that the U.S. ruling is wrong, was quick to point out that the news doesn't bode well for the proposed free-trade deal with the U.S. that Trump and May have both made much of.
"If the special relationship means anything, it must mean that we can say to Washington: that way is the wrong way," opposition Labour Party leader Jeremy Corbyn told his conference in Brighton, England. "That's clearly what's needed in the case of Bombardier where thousands of jobs are now at stake. A prime minister betting our economic future on a deregulated trade deal with the US might want to explain how 220 percent tariffs are going to boost our exports."
Britain's Defense Secretary, Michael Fallon, said Boeing's complaint was a hostile act that put future British government work at risk.
"This is not the kind of behavior that we expect from a long-term partner, and I've made that very clear to Boeing," Fallon told reporters on Wednesday. "It could indeed jeopardize our future relationship with Boeing."
The U.S. aerospace giant sells Apache attack helicopters, Chinook transports and surveillance planes to the British military but a retaliation wouldn't be straightforward: Boeing employs more than 2,200 people in the U.K., who could be hit by the loss of contracts.
Before it's here, it's on the Bloomberg Terminal.
LEARN MORE