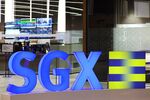 Singapore's stock market isn't exactly buzzing, but at least it's losing the look of a forlorn bazaar.
The average daily value of shares traded has topped S$1.15 billion ($849 million) so far in 2017, the most in four years, but still a fifth lower than in 2013 when a penny-stock scandal sapped confidence.
During the past couple of years, though, Chief Regulatory Officer Tan Boon Gin has done a fair bit to restore its reputation, including chasing nylon-fiber makers in China's Fujian province for allegedly duping investors. The bourse's regulatory functions also got transferred this month to Singapore Exchange Regulation, or SGX RegCo, a new unit modeled after NYSE Regulation Inc. Tan, a white-collar-crime specialist, is heading the subsidiary, which has its own board.
Although it's early days, a truly independent RegCo would resolve a problematic conflict of interest between the exchange's commercial leanings and its policing role.
But the business side of things is yet to shift gear. Yes, trading interest in equities seems to be reviving, even as the popular futures contracts on the Indian rupee and the Chinese yuan clock record volumes. Traders in iron-ore futures are increasingly hedging their currency risk on the city-state's exchange. A 10 percent increase in volumes in either cash equity or derivatives would lead to a 7 percent upside in SGX's earnings per share, according to Goldman Sachs Group Inc. analysts, who've upgraded their rating to buy from neutral.

Still, a bigger payday for investors may be when the exchange has enough liquidity to draw new attractions -- and stop losing existing ones.
If the past week is any indication, that's still a ways off. Osim International Ltd., the Singapore-based massage-chair maker taken private last year by its founder, is preparing to sell shares in Hong Kong. Sea Ltd., a mobile-game publishing partner of Tencent Holdings Ltd., is also bypassing its home market: Southeast Asia's most valuable startup is seeking a $1 billion initial public offer in the U.S. Meanwhile, Australia's Cromwell Property Group, which was supposed to list its European assets in Singapore, has shelved what would have been the financial center's first euro-denominated IPO.

To score some big-name wins of its own, SGX recently allowed companies with dual-class shares to seek a secondary listing in the city if they're already publicly traded in developed markets. It's yet to make up its mind about the primary listing of dual-class shares, which is something that both Hong Kong and London are also considering.
When it comes to diluting investor protection for the sake of new business, expect there to be stiff global competition between bourses in the run-up to the 2018 sale of 5 percent of Saudi Aramco. The chances of Singapore snagging the world's richest IPO by outmaneuvering not just New York and London, but also Hong Kong and its promise of mainland Chinese investors, are remote. On the assumption that it's not going to win the Aramco lottery, SGX needs to think hard about its own shares, which are worth about half what they were a decade ago.
Fixing that will need an awful lot of work -- and a little bit of luck.
Before it's here, it's on the Bloomberg Terminal.
LEARN MORE