Corbyn Says It's Right to Plan for Run on Pound If Labour Wins
By and
McDonnell said Labour government could face capital flight

Labour leader says party is serious about gaining power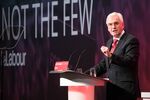 U.K. Labour leader Jeremy Corbyn agrees with finance spokesman, John McDonnell: The main opposition party should prepare for a run on the pound and capital flight from Britain should it take power.
"John is right to look at all these scenarios because if we're going to move into government we need to know what we're going to do," Corbyn told BBC Television at the party's annual conference Tuesday. "Surely that's what an opposition serious about getting into government wants to do."
McDonnell sparked criticism with comments made Monday at a fringe event in Brighton on England's south coast. While a run on the pound was unlikely, "you never know," he said. Labour is "going to be a radical government."
Asked if he thought a run on sterling was a scenario, Corbyn was quick to quip to the BBC that there's "been a run on the pound over the last two years, actually."
The pound has declined about 12 percent against the dollar in that time frame, with the big plunge occurring in June 2016 after the referendum result to pull out of the European Union.
The party has pledged to take into state ownership the railways, water companies and Royal Mail Plc, as well as some energy companies. Stockholders would be given government bonds as compensation. Chancellor of the Exchequer Philip Hammond said McDonnell's comments showed the "disastrous effects that Labour's plans would have on Britain's economy.''
McDonnell's office said in a statement that the scenario planning covered "numerous events such as national disasters and acts of terror that could occur under any government.''
According to Buzzfeed, the job of thinking through the implications of a financial crisis is being done by Class Wargames, which describes itself as "an avant-garde movement of artists, activists and theoreticians engaged in the production of works of ludic subversion in the bureaucratic society of controlled consumption.''
Before it's here, it's on the Bloomberg Terminal.
LEARN MORE