U.K.'s Brexit Tone 'More Realistic' But Not Enough, EU Says
By , , and
EU's Tusk welcomes 'more realistic tone' from Britain's May

Brexit negotiations still haven't made 'sufficient progress'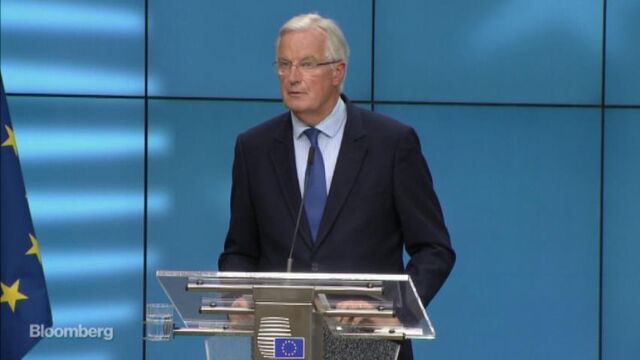 The European Union welcomed U.K. Prime Minister Theresa May's "more realistic tone" on the Brexit negotiations but said her concessions don't go far enough, suggesting prospects of starting trade talks as soon as next month continue to fade.
"The philosophy of 'having a cake and eating it' is finally coming to an end, or at least I hope so," European Union President Donald Tusk said on Tuesday after meeting with the British premier in London. "I feel cautiously optimistic about the constructive and more realistic tone of the Prime Minister's speech in Florence and of our discussion today." 
As Tusk spoke to reporters in Downing Street, negotiators in Brussels continued talks over the U.K.'s liabilities in its planned withdrawal from the EU in 2019. The EU's 27 remaining states refuse to discuss a future relationship with the U.K. until "sufficient progress" has been made in the negotiations over the so-called exit bill.
Brexit's Costs and Whether Britain Will Pay Up: QuickTake Q&A
"If you asked me and if today member states asked me, I would say there is no 'sufficient progress' yet," Tusk said.
At the heart of the latest dispute are differences over sequencing: Britain says it won't agree to pay an exit bill unless it gets a trade deal and the EU insists it won't discuss trade until Britain agrees to pay its obligations. Disagreements also persist in other areas, including the rights of EU citizens living in the U.K., and the options for avoiding reinstating a border in Ireland.
'Little Progress'
"You can't say we got any closer to open talks as negotiations aren't done from a podium in Florence," Danish Prime Minister Lars Lokke Rasmussen said in Copenhagen on Tuesday. "They take place between Barnier and the Brits and the first couple of rounds have shown little progress," Rasmussen said, referring to the EU's chief Brexit negotiator, Michel Barnier.
May told Tusk that her Florence speech was intended to "create momentum" in the Brexit talks and it is "important for EU negotiators to now respond in the same spirit," according to a statement from her office. She reiterated a call for the EU side to be "imaginative and creative" in the discussions.
While in her speech May offered to honor the financial commitments the U.K. has made during its membership and abide by EU rules and regulations during a transitional period of up to two years, she didn't give details about where the U.K. thinks it's on the hook. The shift in her tone was appreciated in Brussels -- and perhaps words of encouragement could be forthcoming at next month's EU summit, but the bloc's leaders said more clarity is needed on the concessions before they agree to open trade negotiations.
'No Cakes'
It wasn't the first time that Tusk has taken aim at U.K. Foreign Secretary Boris Johnson's declaration last year that the U.K. government's approach to the Brexit negotiations would be "having our cake and eating it." Tusk said last October that "the 'cake philosophy' was pure illusion." There will be "no cakes on the table, for anyone" but "only salt and vinegar," he said.
The latest round of negotiations in Brussels is expected to conclude on Thursday, with another one scheduled for early October, before EU leaders meet to assess whether sufficient progress has been achieved. May will meet her 27 counterparts on Thursday for a summit on digital policy in Tallinn, Estonia.
— With assistance by Ian Wishart
Before it's here, it's on the Bloomberg Terminal.
LEARN MORE