Trump Meets With House Democrats Over GOP's 'Detailed' Tax Plan
By and
Group includes tax panel's chairman and ranking member

Analyst says it's 'highly unlikely' to lead to breakthrough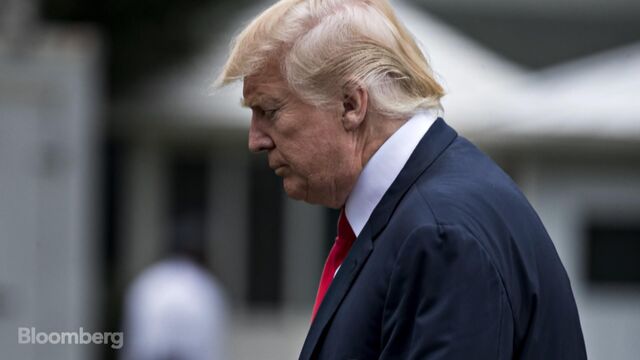 President Donald Trump met Tuesday with a bipartisan group of House Ways and Means Committee members, the day before he heads to Indiana to help unveil what he called a "very comprehensive, very detailed" framework for tax legislation.
Before the meeting, Trump said the plan, which has been kept under tight wraps by congressional leaders and White House officials, will simplify taxes, increase the child tax credit and cut taxes for the middle class "tremendously." Democrats have questioned whether the plan's details -- based on leaks that surfaced over the past week -- will ultimately benefit top earners the most.
Trump said Tuesday it was "time for both parties to come together" on taxes -- though a House Democratic aide said Tuesday's meeting doesn't signal any new agreements. Because the framework is probably already written and scheduled for release Wednesday, the aide described Tuesday's meeting as pointless.
Lobbyists citing multiple leaks of the framework's elements say they include cutting the corporate tax rate to 20 percent or so, down from 35 percent, and taking the top individual tax rate down to 35 percent from 39.6 percent. Administration officials have said they'd offset the rate cuts by eliminating deductions and other tax breaks.
Trump has been making a push to engage with Democrats on taxes, even as GOP congressional leaders have said they don't expect to have any Democratic support for the planned tax overhaul. Earlier this month, the president dined with three Democratic senators who are up for re-election next year in states Trump won -- including Senator Joe Donnelly of Indiana -- to try to win their backing, and has met with a bipartisan group of moderate House members.
Tuesday's meeting with more than a dozen members of the tax-writing committee included Representative Kevin Brady, the panel's chairman, Representative Richard Neal, the panel's top Democrat, and Representative Lloyd Doggett, a Democrat who's on the tax policy subcommittee.
'Partisan Rancor'
"We want to underscore here that this is highly unlikely to result in a major bipartisan breakthrough on tax reform," Henrietta Treyz, a tax analyst with Veda Partners and former Senate tax staffer, said in a Sept. 25 research note. "Partisan rancor is alive and well on Capitol Hill at this point and the stage is not currently set for a bipartisan breakthrough in our estimation."
Doggett, of Texas, has called for the president to release his tax returns. Trump has departed from roughly 40 years of tradition for major-party presidential nominees by not making his returns public, saying his lawyers advised him not to release them while he's under audit.
The president is said to have an ambitious timeline for congressional action on taxes. Trump told dinner guests Monday night that he expects the House will approve a tax bill in October and the Senate by year's end -- an extremely rapid timeline that would give him a much-desired signature legislative victory.
Brady told reporters Monday the goal was still to get a bill done by year's end. House Freedom Caucus Chairman Mark Meadows said Tuesday that Treasury Secretary Steven Mnuchin and National Economic Council Directory Gary Cohn are still aiming for a tax bill to be signed by Thanksgiving -- a goal the House needs to work speedily to meet, Meadows said.
So far the lack of tax plan details has frustrated some conservative Republicans, who have indicated they won't approve a budget -- a necessary step to pass a tax plan without Democratic support --until they get some specifics from their leaders. Meadows also said Tuesday he'd only vote for a tax overhaul if it cuts the rate for corporations to at least 20 percent and omits an international minimum tax, reduces the rate for pass-through entities to at least 25 percent, and doubles the standard deduction for individuals.
House Speaker Paul Ryan told reporters Tuesday he'll discuss taxes with the Republican conference on Wednesday.
"This framework is going to be focused on helping American families. It's going to be focused on helping the people in the middle. It's going to be focused on helping people get to the middle who are struggling to do that," Ryan said. "At the same time, our businesses in America can't compete with the low tax rates of foreign nations."
— With assistance by Erik Wasson
Before it's here, it's on the Bloomberg Terminal.
LEARN MORE