Roger Stone Says Manafort Expects to Be Indicted by Mueller
By
Stone met privately with House Intelligence panel staffers

'I will not let myself be a punching bag,' he told them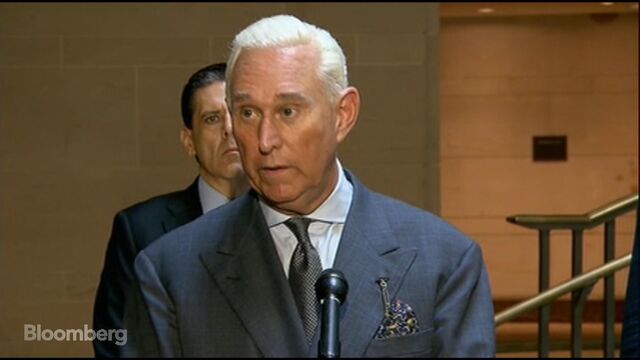 Roger Stone, a longtime ally and informal campaign adviser to President Donald Trump, said Tuesday that he expects former campaign manager Paul Manafort to be indicted.
"His attorneys told my attorneys he expects to be indicted," Stone told reporters after a closed-door meeting with the House Intelligence Committee, which is probing Russian meddling in the U.S. election. Stone added that he didn't know what charges Manafort might be facing and that he hasn't been contacted by Special Counsel Robert Mueller's team.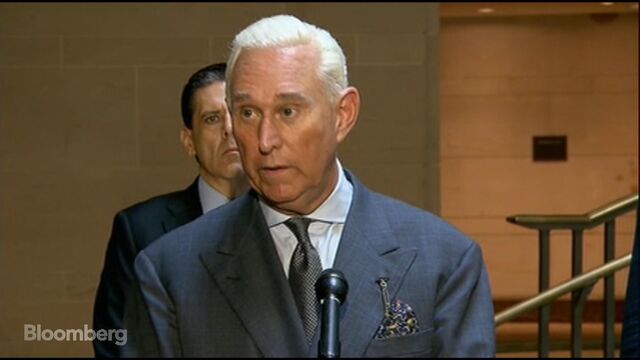 Manafort's lawyer and spokesman didn't immediately respond to request for comment.
After Stone's appearance, the top Democrat on the House intelligence panel said there was one significant area of importance to the committee "where Mr. Stone was unwilling to answer our questions."
Representative Adam Schiff of California told reporters he hopes that Stone will "cooperate in the future. If not, it will be necessary to subpoena him to bring him back to answer those important questions." Schiff didn't say what that area of questioning was.
But Stone said moments earlier to reporters that, while he answered most of the committee's questions, he refused to reveal to the panel the identity of his intermediary with Wikileaks publisher Julian Assange.
That has been an issue because Democrats have asked how Stone knew beforehand that hacked Democratic party emails would be published by Wikileaks. Stone has said he read about it on Twitter, and asked a journalist who he knew interviewed Assange to confirm the report, and the reporter did.
"That's the only question I declined to answer," Stone said.
Michael Conaway of Texas, the Republican leading the Russian inquiry, wouldn't comment on Stone's testimony, other than to characterize Stone's remarks after the interview to reporters as accurate.
'False Allegations'
Stone delivered a fiery prepared statement to the committee where he denied any collusion with Russia and accused the panel of "cowardice."
"Multiple members of this committee have made false allegations against me in public session in order to ensure that these bogus charges received maximum media coverage," he said in a statement obtained by Bloomberg News. "Now however, you deny me the opportunity to respond to these charges in the same open forum. This is cowardice.
"I will not let myself be a punching bag for people with ill intentions or political motives," he added.
Stone, a political strategist known over the years for hardball tactics that he said has led some to call him a "dirty trickster," also has a penchant for attracting attention to himself. His colorful career in politics even inspired a Netflix documentary, "Get Me Roger Stone."
"There is one 'trick' that is not in my bag and that is treason," Stone said in his prepared statement.
Stone arrived at the Capitol Tuesday morning and told reporters that he intended to tell "the truth, the whole truth, and nothing but the truth."
Stone has repeatedly said he wanted to appear in an open hearing before the House Intelligence Committee, which is investigating Russian meddling in the 2016 presidential campaign. Denied that, he said in his statement he is demanding a transcript be made public.
Rejects Accusations
He rejected accusations that he had any improper connections to Russia or any direct, advance knowledge of the plan by Wikileaks to publish hacked emails of Hillary Clinton campaign chairman John Podesta.
"Such assertions are conjecture, supposition, projection, and allegations but none of them are facts," Stone said. He added, "I am left to conclude the president is right when he calls this congressional investigation a 'witch-hunt.'"
Stone's interview comes as both the House and Senate intelligence panels are looking into whether Russian influence in the campaign included pushing fake news stories or ads on Facebook and other social media. Officials from Twitter are set to appear privately before the Senate Intelligence Committee on Thursday.
Regarding Stone, some House Democrats, including Schiff, have focused on his own comments and tweets as evidence of coordination between Trump campaign operatives with Russians. 
Prescient Tweet?
For instance, on Aug. 21, 2016 -- two months before the mass release by Wikileaks of the Democratic Party emails -- Stone tweeted that "it will soon (be) Podesta's time in the barrel." U.S. intelligence agencies had concluded earlier this year that Russians or their operatives may have had a hand in feeding the stolen material from Democrats to Wikileaks.
Stone, in his statement, said, "No member of this committee or intelligence agency can prove this assertion."
Stone has said he communicated with Guccifer 2.0, who took credit for hacking the DNC email servers. Yet in his statement to the committee, Stone questioned whether Guccifer is connected to the hacking and said that Schiff had gotten his facts wrong. 
"Imagine my deep disappointment when Mr. Schiff purposefully conflated these dates before this committee, reversing them to create the false impression that I had communicated with Guccifer 2.0 on Twitter prior to publication of the article questioning whether Guccifer 2.0 is a Russian cut-out," he said, referring to a Breitbart News article he wrote on Aug. 5, 2016. "Shame on you Mr. Schiff."
Critical of Committee
Heading into Tuesday's appearance, Stone has been vocal in insisting he has done nothing improper and in his criticism of the House Intelligence panel's efforts.
Earlier this year, Schiff quipped to a group of reporters that one reason potential witnesses demanded public hearings was because they want to promote books.
Stone has been promoting his book: "The Making of the President 2016: How Donald Trump Orchestrated a Revolution."
In an example of Stone's own dismissive attitude toward the committee's work, he tweeted a photo of himself Monday "preparing" for his testimony by reading the classic 1976 book, "The Russians," by former New York Times Moscow Bureau Chief Hedrick Smith.
Before it's here, it's on the Bloomberg Terminal.
LEARN MORE