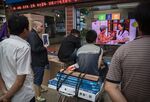 Investors salivating at the idea of getting their hands on shares of Chinese video streaming provider iQiyi better brace themselves.
Baidu Inc.'s content subsidiary is considering a U.S. initial public offering as early as next year, Bloomberg's Lulu Chen reported Tuesday. The listing could value iQiyi at $8 billion to $10 billion, she wrote, citing people familiar with the matter.
It's an easy cliche to call iQiyi "the Netflix of China," despite there actually being a Netflix in China via a licensing deal with iQiyi itself. There is one big difference, however: profit.

Netflix creates a lot of it. IQiyi, meanwhile, weighs on Baidu's bottom line. In the second quarter, the Chinese search engine provider reported that losses at iQiyi reduced its non-GAAP operating income by 11.5 percentage points. And this drag on earnings has persisted for a while.

In fact, this liability for Baidu's income statement served as a great cover for Chairman Robin Li's attempt to buy out iQiyi himself for a mere $2.8 billion. That plan was eventually scrapped last year amid shareholder pressure. I cheered its failure, and argued that Li and Baidu's shareholders were winners because of the setback. With iQiyi now eyeing a valuation three times that amount, I'm happy to have been right.
Yet this doesn't take away from the very real issue of iQiyi's lack of profitability. The reason is simple: iQiyi is spending more on content, including vast sums to create original programing, than it's receiving in revenue. 
This needn't be a problem. If, as iQiyi is betting, the escalating investment in content results in more subscribers, then everything will work out for the best. But this hasn't happened, and the curve is moving in the wrong direction.

It is possible that iQiyi's deal with Netflix helps boost subscriber and revenue figures down the track, but iQiyi must still deal with touchy Chinese censors, who removed animated dark comedy "BoJack Horseman" within days.
Baidu and its bankers don't need to panic yet because there's still time to turn iQiyi around. U.S. investors are greedy for any stock that taps into the mythical golden goose of "China's expanding consumer market." The recent setback in the listing of logistics company Best Inc. shows that tolerance isn't as high as it used to be.
Stay tuned to see if iQiyi will be a blockbuster.
Before it's here, it's on the Bloomberg Terminal.
LEARN MORE