Rajoy Wins Trump's Backing on Catalonia as Budget Plans Unravel
By and
Government pulls budget plan citing lack of parliament support

Prime Minister Rajoy insists illegal referendum won't happen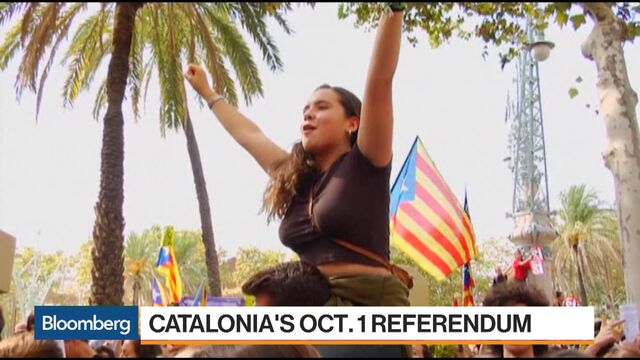 Spanish Prime Minister Mariano Rajoy won Donald Trump's support for his efforts to stop Catalan separatists during a visit to the White House while his political problems deepened back home.
As his boss was meeting the U.S. president in the Oval Office, Rajoy's Budget Minister Cristobal Montoro pulled his 2018 spending bill, saying it didn't have the votes to pass. Rajoy has canceled his plans to attend a European Union summit this Friday as prosecutors order Catalan police to block access to polling stations ahead of an illegal referendum on independence set for Oct. 1.
"We are dealing with a great, great country, and it should remain united," Trump said in a joint press conference with the Spanish premier in Washington on Tuesday.
Rajoy has vowed to use all legal means to ensure Catalans don't go to the polls on Sunday after Spain's top court ruled that their plans are unconstitutional.
"We are still talking with several political groups," Rajoy said, adding that still he expects to reach enough support to pass the budget blueprint. "In any case, I don't have it in my plans to call early elections."
In Catalonia, Spanish prosecutors ordered the regional police to seal off access to locations designated as polling stations before Sept. 30, according to an instruction seen by Bloomberg News. Polling stations should remain under police control until 9 p.m. on Oct. 1 and any attempt to breach that cordon must be reported.
Earlier, Enric Millo, the government's representative in Catalonia, said regional President Carles Puigdemont and other senior officials from the rebel region could be suspended by the Spanish courts if they follow through with their plans for the Oct. 1 vote.
"I will keep hoping until the last minute that the Catalan government has a change of heart and calls off the referendum," Millo said at a briefing in Barcelona on Tuesday. "If that doesn't happen, it's very likely that our interlocutors in Catalonia afterward will be different people."
Puigdemont, for his part, has said he's ready to go to jail if that's what's required to win independence for Spain's largest regional economy.
Before it's here, it's on the Bloomberg Terminal.
LEARN MORE