Sessions Condemns Campus Speech Rules, Defends Trump on NFL
By and
He says campuses risk 'echo chamber of political correctness'

NFL players can express views without taking a knee, he says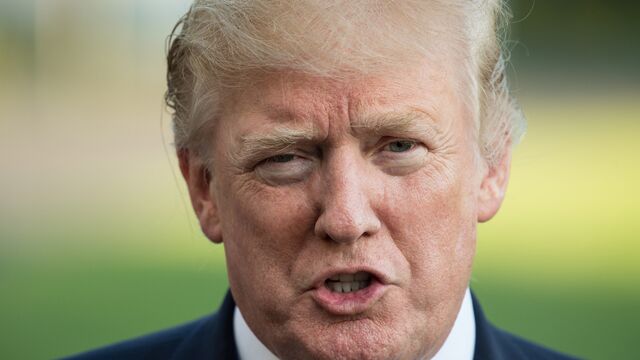 Attorney General Jeff Sessions condemned U.S. colleges for limiting provocative speeches on campuses even as he defended President Donald Trump's attacks on NFL players for protesting during the national anthem.
In a speech Tuesday at Georgetown University's law school in Washington, Sessions took aim at higher education institutions that he said are "transforming into an echo chamber of political correctness and homogeneous thought, a shelter for fragile egos." Sessions said many colleges now have policies "banning disfavored speech." In a few cases, conservative speakers have been barred from campuses on the grounds that they may cause offense or spark violence.
But that left the nation's top law enforcement officer open to questions about the free-speech rights of National Football League players, who Trump has condemned in recent days for kneeling during the national anthem to demand racial equality and to protest the treatment of minority citizens by police.
In response to a question from the moderator, Sessions defended Trump's right to offer such criticism and endorsed the views of the president, who said team owners should fire any player who didn't stand for the anthem.
"I would condemn their actions," Sessions said of the protesting athletes. "In many ways these players, with all the assets they have, can express their political views without in effect denigrating the symbols of our nation."
Campus Speech
In his speech, Sessions said many college administrators "discourage or prohibit speech if there is even a threat that it will be met with protest." He said the Justice Department will intervene in legal cases to defend free speech on campuses.
The department followed through on that promise on Tuesday with a court filing in federal court in Atlanta defending a Georgia man who sued a state college for barring his "fire and brimstone" religious proselytizing after students complained.
Government lawyers said in the filing that Georgia Gwinnett College violated the First Amendment rights of a student, Chike Uzuegbunam, when campus police told him to stop his pre-authorized preaching in a designated "free speech zone" in August 2016.
"Free speech has been under attack on campuses across the country," the Justice Department said in a statement-of-interest filed in the case. "Colleges and universities must protect free speech and may not discriminate out of a concern that listeners might find the content of speech offensive or uncomfortable."
Provocative Conservatives
Speakers such as Milo Yiannopoulos and Ann Coulter, who regularly take provocative stances, have been prevented from speaking on campuses by protesters or by college administrators who say they are concerned about the potential for violence. Some of the sharpest confrontations have occurred at the University of California, Berkeley, where the Free Speech Movement against the Vietnam War and for civil rights produced violent confrontations between demonstrators and police in the 1960s.

Sessions's own campus visit Tuesday was in a controlled environment. The Georgetown Law Center allowed in only invited guests who were screened before they were admitted. Outside, though, more than 100 protesters chanted slogans, locked arms and criticized Sessions over the policies he has pursued at the Justice Department.
"There can be no freedom of speech when its only reserved for a few," said Ambur Smith, 24, a law student and protest organizer.
"We know historically everyone in this country has not been granted the same rights, but that does not mean that we won't demand them," Smith said in an interview. "We have to continue to push back and resist against these forms of exclusivity that continue to plague not only this administration in particular, but all institutions of power in this country."
Before it's here, it's on the Bloomberg Terminal.
LEARN MORE