Russia Gears Up for Big Syria Offensive
By
Bridge built across Euphrates to carry 8,000 vehicles a day

Moscow blames Washington for general's death in mortar attack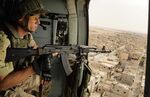 Russia prepared for a major new offensive by government forces in Syria after building a bridge across the Euphrates river, amid growing tensions with the U.S. as the two powers compete for control of a strategically important slice of territory bordering Iraq.
Russian military engineers erected the bridge in two days under continuous shelling, said a top Defense Ministry official, Vladimir Burovtsev, the state news service Tass reported Tuesday. "Unmanned aerial vehicles were used, explosive substances and grenades were falling on us from the air during the installation work," Burovtsev said. "But we suffered no losses and we did everything in time."
Russian Deputy Foreign Minister Sergei Ryabkov a day before denounced what he called the "two-faced American policy" in Syria after a general died over the weekend in a mortar attack by Islamic State fighters in the contested eastern Deir Ezzor region. U.S. State Department spokeswoman Heather Nauert denied any American support for the terrorist group or complicity in the death of General Valery Asapov, a top Russian military adviser in Syria.
Russia and the U.S. are increasingly risking a direct clash as Syrian government troops with Russian support race against America's Kurdish allies to capture territory held by Islamic State in Deir Ezzor. Both sides, which have special forces on the ground, accuse each other of attacks and the general's death escalated tensions.
New Bridge
A limited contingent of Syrian army forces crossed the Euphrates about 10 days ago on temporary Russian-made pontoon bridges after breaking an almost three-year siege of Deir Ezzor. Kurdish-led forces also deployed swiftly to the area, which is rich in oil deposits as well as a key gateway to the country.
The small road bridge is 210 meters (about 690 feet) long and can transport 8,000 vehicles a day, including tanks, armored personnel carriers and multiple-launch rocket systems, the Russian military official said. That should make it possible for a large contingent of the Syrian army to get across, Tass said.
Syria's official SANA news agency reported Tuesday the army was fighting east of Deir Ezzor, using aircraft, missiles and ground troops.
The Russian Defense Ministry on Sunday published photographs which it said showed American military Humvees in zones controlled by Islamic State, claiming that the U.S. forces were coordinating with the jihadists to allow their Kurdish allies to transit the area. The State Department denied that.
— With assistance by Donna Abu-Nasr
Before it's here, it's on the Bloomberg Terminal.
LEARN MORE