O'Reilly's Fox News Appearance Tests Optics Amid Sky Review
By
Ousted former host to appear on Sean Hannity show Tuesday

Fox's Sky bid is being reviewed by U.K. competition authority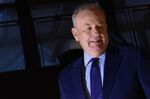 21st Century Fox has taken pains to emphasize its commitment to a sound workplace in the wake of a sexual harassment scandal at Fox News. Giving Bill O'Reilly air time won't help.
O'Reilly is scheduled as a guest Tuesday evening on Sean Hannity's show, marking his return to the network after his ouster in April following allegations of verbal abuse, unwanted advances and lewd comments. He was among high-profile departures from Fox News amid snowballing complaints of misconduct starting last year with Roger Ailes, the now-deceased former CEO.
The appearance by the former host risks undermining Fox's attempt to revamp the ethos of its network. Potential ramifications for Fox include alienating female employees, further irritating advertisers -- which had fled O'Reilly's show -- and seeding doubt about its corporate culture among U.K. authorities reviewing Fox's 11.7 billion-pound ($15.8 billion) bid for Sky, the European broadcaster based in London.
Just two weeks ago, Fox Chief Executive Officer James Murdoch was extolling his organization's handling of harassment allegations and the message it sought to send to the wider company with the initial firing of Ailes. "No organization is going to be perfect, but the question is how do you react to those things and then send signals to the rest of the organization to say this behavior is no good," Murdoch told a broadcast industry audience at a conference in Cambridge, England.
An argument can be made for interviewing O'Reilly now, as he makes the rounds with talk shows to promote his new book, "Killing England." However, the appearance gives O'Reilly a platform to disparage his accusers and Fox's decision to kill his show. He told NBC's "Today" show last week that his firing was a "political and financial hit job" and suggested the Sky takeover played into the move. O'Reilly, who has denied all wrongdoing, went after his accusers on Hannity's radio show last week and outlined an investigation to clear his name.
Fox News said in an email that it has made steps to change its corporate culture, including doubling the size of its human resources and appointing new leadership, implementing mandatory sensitivity training and taking immediate and appropriate action when presented with workplace issues.
Some advertisers could leave Fox entirely over O'Reilly's appearance, said Angelo Carusone, president of the Media Matters for America, an advocacy group that's challenged Fox News for years. "The fact that Fox executives are tolerating this budding collaboration between Hannity and O'Reilly underscores how little they have actually done to address their culture of sexual harassment," Carusone said in an emailed statement.
— With assistance by Anousha Sakoui, and Joe Mayes
Before it's here, it's on the Bloomberg Terminal.
LEARN MORE