Nike Declines After Athletic Giant Gives Bleak U.S. Outlook
By
But overseas growth, lower costs are helping bolster earnings

CEO says innovative products, digital improvements are coming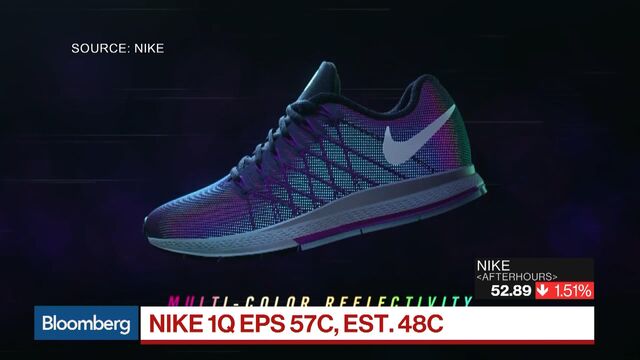 Nike Inc. shares declined the most in almost six weeks after the company squelched any hope of a quick turnaround at its ailing domestic operations.
The world's biggest sportswear maker expects North American sales to decline again this quarter, following a 3 percent dip in the region last quarter. Nike's Converse business also will drop in the current period.
The slump has forced Nike to rely more heavily on overseas growth, especially in China. International sales -- along with an aggressive cost-cutting plan -- helped the company post first-quarter profit that topped estimates on Tuesday.
Chief Executive Officer Mark Parker vowed to ignite global growth by "innovative products and the most personal, digitally connected experiences in our industry." But it's hard to tell how soon that vision will revive sales at home.

Nike expects its annual sales to rise by a percentage in the mid-single digits, up from $34.4 billion last year. Its margins will narrow in the latest current period, at about the same rate as the previous three months, Nike said on a conference call.
Nike fell as much as 5 percent to $51.03 after the open of trading on Wednesday, the most since Aug. 18. The stock had gained 5.7 percent this year through Tuesday's close, after ranking as the worst-performing member of the Dow Jones Industrial Average in 2016.
Nike is contending with other distractions as it tries to turn around its U.S. operations. The company was pushed into the unfamiliar position of taking sides against a sitting U.S. president when Donald Trump harshly criticized NFL players who take a knee during the national anthem to highlight inequality.
Even as Nike backed players' right to not stand for the anthem, U.S. federal authorities announced a probe into criminal influence in NCAA basketball. While the charges involved rival Adidas AG, one former Nike employee was named by prosecutors. The company said it believes in "fair and ethical play -- both in business and sports."
With major U.S. retailers faltering over the past 18 months, Nike has been trying to generate more revenue through its own stores and websites. It's also pursuing new channels for distribution, including inking a deal this year to sell lower-end items through Amazon.com Inc.
Earnings were 57 cents a share in the first fiscal quarter, which ended Aug. 31. Analysts projected 48 cents on average. Revenue amounted to $9.07 billion, slightly short of estimates.
This decline was offset by a surge of 5 percent in Latin America and Pacific Asia, while Chinese sales advanced 9 percent.
Nike disclosed on Monday that it would stop reporting future orders, which investors had used as a measure of upcoming demand. Because selling directly to consumers was becoming a bigger portion of its revenue -- last fiscal year it reached 28 percent -- so-called "futures" were no longer an accurate portrayal of its business, the company said. This decision also came as orders were weakening.
New Competitors
After years of dominance, Nike is facing heavier competition from its traditional rivals, as well as nonathletic brands pushing into workout clothing. To stay nimble, the Beaverton, Oregon-based company eliminated 2 percent of its global workforce this year, or about 1,400 jobs, with half the cuts coming at its headquarters.
U.S. sneaker retailers such as Foot Locker Inc. and Finish Line Inc. say a lack of innovation and catchy styles from manufacturers have depressed demand. Those critiques fall squarely on Nike, which has said it needs to develop shoes faster to keep up with consumer tastes that shift more rapidly than ever. The company is now investing to accelerate its supply chain while making more frequent tweaks to products -- updating colors, prints and materials.
Still Confident
The company maintained an aura of confidence earlier this year, with Parker saying its innovation pipeline would get it back on track.
Nike reiterated on Tuesday that its focus will be selling more goods directly to consumers, especially as the U.S. retail market suffers. Revenue by that measure rose 11 percent last quarter, including 19 percent online. That will include selling through Amazon, which Parker described as being "excited about the possibilities."
With sales now expected to decline in the first half of the fiscal year, Parker reaffirmed his confidence that its innovation pipeline would get it back on track.  
 
"We are very bullish on what's coming," Parker said.
Before it's here, it's on the Bloomberg Terminal.
LEARN MORE