Mnuchin Asks Judge to Toss Exxon's Suit Over Russia Drilling
By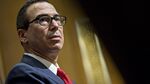 Treasury Secretary Steven Mnuchin filed court papers in Texas denying claims by Exxon Mobil Corp. that a $2 million fine assessed against the energy company in July, over alleged "egregious" violations of sanctions against Russia three years ago, was unconstitutional.
Mnuchin asked a federal judge in Dallas to toss out the case filed by Exxon after Treasury officials accused the company of violating Ukraine-related sanctions. Exxon allegedly signed legal documents in May 2014 related to oil and gas projects in Russia with Igor Sechin, head of Rosneft OAO, who is on the Treasury's list of sanctioned Russian nationals. The alleged violations occurred while now-Secretary of State Rex Tillerson led the company. 
Exxon challenged the penalty in its suit, arguing the agency's interpretation of a 2014 executive order by former President Barack Obama was arbitrary and capricious.
Before it's here, it's on the Bloomberg Terminal.
LEARN MORE