Macron Should Fix France Before EU, Czech Election Favorite Says
By and
Billionaire Andrej Babis is poised to lead next Czech cabinet

Babis calls for focus on immigration rather than integration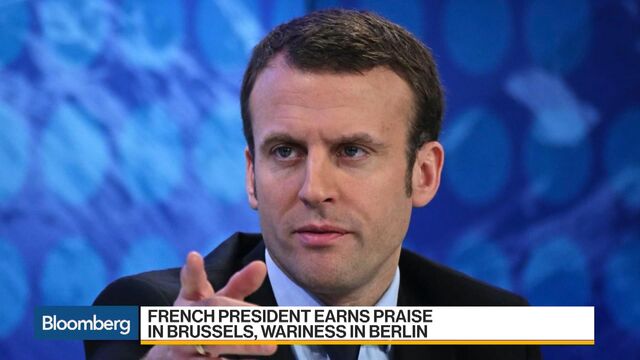 French President Emmanuel Macron should take care of his own country instead of deepening integration in the European Union that may trigger "lots of Brexits," according to the billionaire who's set to become the next Czech prime minister.
Hours before Macron unveiled proposals to reshape the 28-member trading bloc with help from German Chancellor Angela Merkel, Czech ANO party leader Andrej Babis said that, for the EU, the focus for them and other leaders should be finding solutions to the EU's immigration crisis.

"Macron is talking too much about Europe," Babis, whose wide lead in opinion polls before Oct. 20-21 elections puts him in the best position to become premier, said in an interview at Bloomberg's offices in Prague on Tuesday. "He should talk about France and solve France."
The 63-year-old billionaire is part of a chorus of euroskeptic voices in the EU's ex-communist east who are railing against the European establishment. A former finance minister, he's made clear his country won't adopt the euro if he leads the next government and blamed Merkel's open-door immigration policy for terrorism. He also said proposals from Macron and European Commission President Jean-Claude Juncker for the euro zone to adopt a common budget and finance minister would alienate voters across the bloc.
Read more about populist leaders cutting a fault line through the EU
"He should really concentrate on France," said Babis, whose agriculture, chemical and media holdings make him worth more than $3 billion. "All these proposals that we'll have a minister of the euro zone and all of this further integration -- Juncker and Macron should think of why Brexit happened. And this is really a problem."
Voters cited Europe as the second reason why they cast ballots for Macron in his May election victory, after employment, according to a survey by French pollster BVA.
Macron laid out his vision for the future of the EU at a speech on Tuesday in Paris, putting the euro zone at the core of the European project and calling for measures to it into an "economic and monetary power" to rival China and the U.S. He also outlined proposals on common European policies for defense, migration, intelligence and asylum, areas that Babis has also supported for closer cooperation to protect the bloc's borders.
Euroskeptic East
Babis's criticism of integration and focus on immigration puts him alongside Hungarian Prime Minister Viktor Orban and Polish ruling party leader Jaroslaw Kaczynski, who have rejected a bloc-wide agreement to take in migrants during Europe's worst refugee crisis since World War II.
Czech lawmakers stripped Babis of his immunity from prosecution last month amid fraud accusations concerning EU funds, which Babis has denounced as politically motivated before the election. He also rejects comparisons with Orban and Kaczynski, saying he won't compromise judicial independence, and he has avoided the type of clashes those leaders have had with Brussels over the rule of law.
But, like them, he's bristled at the idea of a two-speed Europe that could include a closer-cooperating core in the euro zone and other countries that don't use the common currency.
"Tell me, which speed is Greece?" said Babis, who was also dismissed as finance minister in May in a conflict-of-interest scandal, in which he has also denied wrongdoing. "If they want to destroy Europe, they have to say that 'we're the better Europe, and the rest is the worse Europe,' and we will have more Brexits. Lots of Brexits."
Babis warned that Czechs would vote to leave the EU if a referendum was held in the country of 10.6 million. Such a result would be a "disaster," he said, adding that he wouldn't support holding that type of vote.
— With assistance by Ladka Mortkowitz Bauerova, Paul Abelsky, and Krystof Chamonikolas
Before it's here, it's on the Bloomberg Terminal.
LEARN MORE