Macron Lays Out Vision of a Europe Fit for Globalized World
By , , and
Speech in Paris outlines proposals on defense to immigration

French president says Europe must be economic, monetary power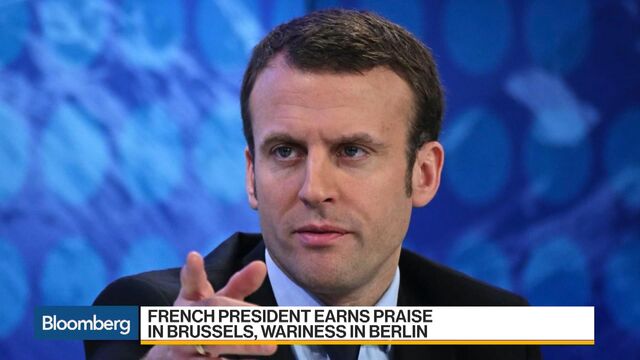 French President Emmanuel Macron laid out a vision of the European Union that he said offers the bloc's population real sovereignty to defend their interests and project their values in a globalized world.
In a speech in Paris on Tuesday, Macron detailed a wide range of proposals for future European policies including defense, migration, universities, intelligence and asylum, as well as a new joint office to invest in innovations, a European prosecutor to fight terrorism and an industrial program to foster clean vehicles. In his view, common actions should also include a European financial transaction tax, harmonized corporate taxes and a shared floor for carbon price.
Macron, speaking for an hour and 40 minutes, went on to say that the euro zone is the core of the European project and offers its members the prospect of economic power to rival China and the U.S.
"Europe needs to be an economic and monetary power," Macron said, adding that an EU budget is needed to fund investment and absorb economic shocks.
"The Europe we know is too weak, too slow, too ineffective," Macron said in his speech at the Sorbonne University. "Europe can assure real sovereignty, our ability to exist in the world of today."
U.K. Departure
Four months after winning power and less than 48 hours after a German election that left uncertainty over the future coalition in Europe's biggest economy, Macron sought to set out proposals to re-shape the 28-nation bloc as it copes with the upcoming departure of the U.K. and the changes wrought by a digital economy, mass immigration and terrorism.
"It was a visionary speech and it will accelerate the process" of European integration, said Guntram Wolff, director of Bruegel think tank in Brussels. "Will the Germans and other European countries take him up on that? On some points, yes" but on others not immediately, he said.
Macron's proposals for the euro zone were also meant to notify Germany of France's demands before leaders in Berlin finalize their post-election coalition pact. As he acknowledged that his vision will require Chancellor Angela Merkel's support to push through, Macron was cautious not to go into too many details ahead of time for his plan.
In a nod to the government in Berlin, which rejects underwriting the debt of weaker euro-area countries, he said there is no need to mutualize existing debt. He mentioned the need for a eurozone budget that could fund joint investments and help counter economic shocks, without giving the size or scope of such a budget.
Transfer Union
For Hans Michelbach, a member of German Chancellor Angela Merkel's parliamentary caucus, Macron's  proposals for the European Union "amount to turning the euro zone into an unlimited transfer union and doing away with the euro's stability pact. Those are the wrong lessons to draw from the euro crisis," he said in an emailed statement, adding that "we don't need new instruments."
For the French president, Tuesday's speech aired live on multiple national television and radio channels, the vision he displayed was meant to bolster his image as an ambitious leader both at the European level and at home.
"What I want for Europe I have started doing in France," Macron said as his government has enacted his labor reform and is now preparing the next ones for unemployment benefits and professional training, both meant to help revive the labor market.
Martin Selmayr, the chief of staff to European Commission President Jean-Claude Juncker, praised the French leader for a "very European" speech.
Before it's here, it's on the Bloomberg Terminal.
LEARN MORE