business
Watch These Turkish Stocks Exposed to Iraq
By
Istanbul benchmark tumbled on Kurdish independence referendum

Construction, food companies among those potentially at risk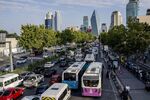 From construction to food stocks, political tension following a referendum by Iraqi Kurds on independence is bringing Turkish companies with business ties to the country into focus.
Monday's vote drew tough talk from neighbors including Turkey, whose President Recep Tayyip Erdogan threatened to curb Kurdish oil exports and warned that supplies of food and clothing could be disrupted. Iran called the poll "illegal and illegitimate," closing its borders with the region at the request of Iraq. The Iraqi parliament in Baghdad approved draft legislation ordering the closure of borders with Kurdistan, while the U.S. expressed "deep disappointment," saying the plebiscite will increase instability and hardship.

While Turkey's benchmark stock index on Tuesday retraced some of the biggest slump in six weeks, caused by investors fretting over events in Kurdistan, here are some companies that may still be worth watching, given their links to Iraq:
Enka Insaat
Iraq accounted for 38 percent of the construction company's order backlog as of June 30, analysts at Istanbul-based brokerage Teb Investment wrote in a note. While the company's Northern Iraqi projects are completed, there is the potential for further contracts in the region and the news flow may have a "marginal negative impact," Teb said.
To read more about the Kurds' aspirations for statehood, click here
Tekfen Holding
The engineering and construction company is part of a $100 million project in southern Iraq, a country that accounted for about 2 percent of its order backlog as of the first half of 2017. "The impact of the ongoing dispute will likely be minimal," according to Selim Kunter, an analyst at Deniz Invest in Istanbul.
Coca-Cola Icecek
About 10 percent of the soft-drink bottler's volumes are derived from Iraq, with about 3 percent from the north and 7 percent from the south. "Coca-Cola Icecek has another established company and a production plant in the country; therefore the risk is a potential downturn in the economy due to rising tension within Iraq and a deterioration in consumption," said Kayahan Azmi Demirak, an analyst at Is Investment. 
Tupras
Iraq supplied 33 percent of the refiner's crude oil needs in 2016. Teb Investment estimates that an insignificant amount came from the Kirkuk region in the north, all of it procured from Iraqi state oil company Somo. Even in the worst-case scenario, Teb doesn't expect a major threat to Tupras.
Mardin Cimento
Iraq constituted 30 percent of Mardin Cimento's revenue in 2015, according to Deniz Invest. With northern Iraq probably making up a material part of that, "the company may be negatively affected by potential sanctions," Deniz Invest analysts said.
Banvit
Exports account for about 10 percent of the poultry company's total sales and a large portion are probably to Iraq, leaving Banvit vulnerable to developments there, said Erdem Hafizoglu, an analyst at BGC Partners in Istanbul.
Turkish Airlines, Pegasus Hava
While Turkish Airlines and Pegasus Airlines flights could be affected should tensions escalate, Deniz Invest estimates that the impact will likely prove insignificant to the carriers' overall operations, analyst Selim Kunter said. Turkish Airlines said Monday there were no issues with flights to the regional capital of Erbil. Rising crude prices may drive up costs for Turkey's airline companies.
(
Analyst corrects estimate on Tupras.
)
Before it's here, it's on the Bloomberg Terminal.
LEARN MORE