Top Individual Tax Rate Remains Under Discussion in GOP Tax Plan
By
Lobbyists had said framework would cut rate to 35% from 39.6%

Kelly says 'good chance' rate will stay much higher than 35%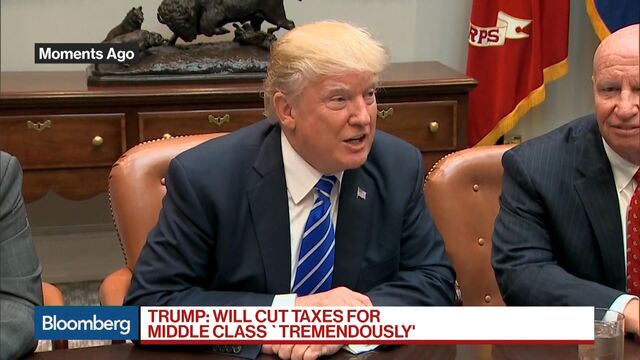 The tax framework coming from the White House and congressional leaders Wednesday may not have an exact number for the top individual income tax rate, according to a member of the tax-writing House Ways and Means Committee.
President Donald Trump has said a tax overhaul would benefit the middle class, and won't be a tax cut for the rich. Lobbyists citing multiple leaks of the framework's elements had previously said they include taking the top individual tax rate down to 35 percent from 39.6 percent.
Details of the framework remain in flux, said the Ways and Means Committee member, who asked not to be named when speaking about a document before it's made public. 
"I can't answer that directly, but I think there's a good chance that it's going to stay much higher than that," Representative Mike Kelly, a Pennsylvania Republican on the Ways and Means Committee, said when asked if the top tax rate will come down to 35 percent.
Kelly said he thinks there will be a decision made on the rates for individual brackets before the framework is released, but those numbers weren't presented to GOP members of the Ways and Means Committee during their retreat on Sunday and Monday.
Before it's here, it's on the Bloomberg Terminal.
LEARN MORE