Five Things You Need to Know to Start Your Day
Get caught up on what's moving markets in Asia.
By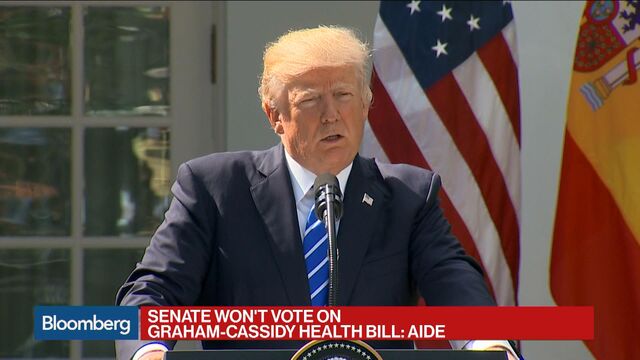 Want to receive this post in your inbox every morning? Sign up here.
More sanctions on North Korea, Yellen defends need for tightening, and Trump to unveil tax reform details. Here are some of the things people in markets are talking about.
If You Want Peace ...
President Donald Trump said the U.S. is "totally prepared" to use "devastating" military force against North Korea, though he would continue to push for a peaceful denuclearization. The U.S. announced more sanctions in a bid to curb Kim Jong Un,  taking aim at banks and individuals with ties to the regime's financial networks. China, which drew praise from Trump for its pressure on North Korea, still refuses to discuss the possibility of the collapse of its neighbor. It's unclear whether North Korea has the technological capabilities to make good on the threat made by Foreign Minister Ri Yong Ho –  to shoot down U.S. bombers, even those outside its airspace. According to the Washington Post, North Korea has sought to talk to Republican-affiliated political analysts to better understand the U.S. commander-in-chief.
Fedspeak
Fed Chair Janet Yellen defended the need to continue with gradual policy tightening in a measured speech on Tuesday that discussed the mystery of low inflation. Atlanta Fed President Raphael Bostic told reporters he's "feeling pretty comfortable" about another interest rate increase at the central bank's final meeting of the year. Fed Governor Lael Brainard struck a more cautious tone in her speech, warning that income inequality may damp U.S. consumer spending. Amid the deluge of Fedspeak, the market-implied odds of a December hike climbed from about three in five to two in three. Republican Senator Richard Shelby, who said he'd spoken to the president about the U.S. central bank, doesn't think Yellen will be re-appointed.
Pivot to Taxes
It's on to taxes (again) after Republicans' last-ditch effort at health care reform failed over preexisting indispositions in the Senate. Some details of the GOP tax plan are emerging, including a reduction of the corporate tax rate to 20 percent from 35 percent and ending the state and local tax deduction that benefits middle- to high-income earners in liberal-leaning New Jersey, California, and New York, for example. The latter measure could face stiff opposition from dozens of Republican lawmakers. What happens to the top individual tax rate is still up in the air. The framework will be released on Wednesday in Indiana by Trump, who met with a bipartisan group of members of the House Ways and Means Committee to discuss it. Arizona Senator John McCain is insisting upon regular order and a bipartisan push to modernize the U.S. tax code, the same demands he made before announcing his opposition to the Graham-Cassidy health care proposal.
Futures Up
Nikkei 225 futures are markedly higher with S&P/ASX 200 futures also trading to the upside ahead of the open. The economic calendar is sparsely populated on Wednesday, with the annual change in Chinese industrial profits for August headlining the events. Also on deck: the final reading of the annual change in Japanese machine tool orders for August, and the nation's small business confidence index, forecast to tick up half a point to 49.5 for September. The Bank of Thailand is expected to keep its benchmark rate unchanged at 1.5 percent.
Stocks Go Nowhere
The S&P 500 Index gave up its gains late in the day to finish virtually flat, with tech stocks repairing some of Monday's damage. Some good news for those who bought the top in 2007, however: The benchmark gauge has doubled since then. The Russell 2000 Index posted a fresh record close. The U.S. dollar and 10-year Treasury yields also rose, amid comments from Fed officials that increased market expectations of an additional interest rate hike by year-end. West Texas Intermediate pared its earlier decline after a post-settlement private inventory report showed an unexpected draw in stockpiles.
What we've been reading
This is what caught our eye over the last 24 hours.
Quotes from this Article
Before it's here, it's on the Bloomberg Terminal.
LEARN MORE