Equifax's Interim CEO Brings Charm, Focus on Growing Abroad
By , , , and
Barros, head of Asia unit, takes helm amid successor search

Smith steps down as CEO but will still testify before Congress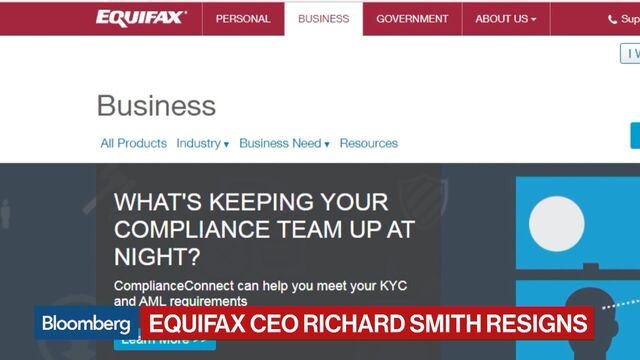 Equifax Inc. named a temporary leader after exposing sensitive data on 143 million Americans, picking a seven-year insider who's spent most of his time there focusing on business abroad.
The selection of Paulino do Rego Barros Jr., 61, to replace departing Chief Executive Officer Richard Smith buys the credit-reporting company some time to find a permanent leader while it contends with public resentment and government inquiries. The board announced the move Tuesday, saying it will look inside and outside the Atlanta-based firm for a successor.
"This controversy isn't going away," said Bart Friedman, a senior counsel at Cahill Gordon & Reindel LLP, who advises boards on matters including corporate compliance and enforcement challenges. "Bringing somebody in from the outside is going to enable the board to help the company have a new look."
Barros takes over as interim CEO three weeks after Equifax revealed hackers accessed a vast trove of names, Social Security numbers, birth dates, addresses and driver's license numbers. The Brazilian-born executive is known for warmth and charm that contrasts with Smith's numbers-driven business-management strategy, according to two former employees of the company.
Cheez Whiz
While living in Atlanta, Barros and his wife enjoyed hosting dinner parties, sometimes inviting neighbors over for family meals of homemade pizza cooked in their outdoor oven, one person said. He's a great storyteller, another person said, recalling how Barros once entertained a group with a detail-rich story of a long trek in search of a fine dining experience that turned out to be a dark, hot restaurant serving Cheez Whiz.
He's also said to be a technology enthusiast known to have the latest iPhones and other gadgets before just about anyone else.
"Paulino is a people person known to be a straight shooter," said Jeffrey Rosensweig, a professor at Emory's Goizueta Business School who's known Barros for about 15 years.
Such traits could help. Much of the outrage this month has focused on the firm's failures in communicating with the public. For days after the initial announcement, consumers and lawmakers were left demanding more information on how the breach unfolded and the measures being taken to protect victims. The stock has tumbled almost 26 percent since the intrusion's disclosure. Federal authorities have opened investigations and lawmakers are planning a series of hearings.
Moving Around
Barros joined the company in 2010 to lead its international unit, which at the time included operations in Canada, Europe and Latin America. Five years later, he was plucked to run U.S. Information Solutions, Equifax's largest unit that holds its flagship credit database.
"We have known Paulino for years and have confidence in his ability to run the day-to-day operations of the company," Shlomo Rosenbaum, a Stifel Nicolaus & Co. analyst, said in a note to clients.
In June, Barros took over Equifax's effort to build out an Asia-Pacific business, while remaining an active member of the senior leadership team, the company said at the time. He relocated to Sydney, according to a spokeswoman. Equifax had bulked up the Asia-Pacific business with a $1.9 billion purchase of Veda Group Ltd. in February 2016 -- an expansion seen as key to the company's future.
"The biggest long-term opportunity they have is replicating their business model in emerging markets," Brett Horn, an analyst at Morningstar Inc., said in an interview. "I would view it as a positive if one of their international executives took over the CEO role on a permanent basis."
Smith's Pay
Smith's departure did little to stem lawmakers' criticism of the firm over the breach, and he's still set to testify before Congress next week. On Tuesday, Senator Elizabeth Warren, a Massachusetts Democrat, called on Smith and other Equifax executives to return some compensation.
Smith was one of the highest-paid executives in the Atlanta area in 2016, when he received $15 million of reported compensation. That topped the $12.6 million Delta Airlines Inc. awarded to CEO Ed Bastian and almost matched Coca-Cola Co. CEO Muhtar Kent, who got a $16 million package. Equifax is less than a 10th the size of Delta and Coca-Cola in terms of revenue.
Under the board's clawback policy, the compensation committee can recoup previously awarded incentive pay if an executive engaged in misconduct that caused a material restatement of the company's financial statements, a filing shows. Pay also can be clawed back from anyone who engaged in activities "detrimental" to Equifax. Such a move can include canceling equity awards and recovering gains from shares that vested within six months of a violation.
During his career at Equifax, Smith took home about $165 million, according to data compiled by Bloomberg. That includes salary, bonuses, taxable perks and the value of stock options exercised and stock awards that vested. That figure was boosted by the three-fold increase in the company's shares during his tenure.
"This move raises the bar for his successor," Andrew Jeffrey, an analyst at SunTrust Robinson Humphrey, said in a note to clients. "Fortunately for Equifax investors, we believe Equifax's growth franchise can survive this event, and Rick Smith's departure."
Before it's here, it's on the Bloomberg Terminal.
LEARN MORE