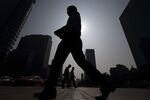 President Moon Jae-in came into office promising to give millions of South Koreans a 55 percent pay rise by 2020. And while he's on track to do the first round of those increases as part of his government's policy of income-led growth, critics say that the move may actually lead to job cuts and more employers illegally underpaying their workers.
As the first step in getting minimum wages to 10,000 won ($8.80) an hour, the minimum wage will rise 16 percent next year, benefiting an estimated 4.6 million Koreans who currently earn below that level. That's an important step in Moon's bigger agenda to shift the economy from export-reliant growth to one based on household consumption.

But one issue is that many workers don't receive the required minimum wage now, and even with government subsidies to help companies cope with the increase, many firms may continue underpaying workers, undercutting the policy's effects. It could also lead to job losses as employers opt for automation, relocate offshore where labor costs are cheaper, or increase work hours for remaining employees.
"The government's goal of 10,000 won is too high, and it's rare for a country to raise the minimum wage so suddenly -- it's like an experiment," said Oh Suk-tae, an economist for SG Securities in Seoul, a unit of Societe Generale. This may lead to many side effects, such as companies reducing jobs, he said.

Much of the burden of any increase will fall on smaller companies and not the large and profitable conglomerates such as Samsung Electronics Co. In 2016, 45 percent of people paid below the minimum wage worked at companies with 4 or fewer employees, according to research from the Korea Labor Institute. Only 1.3 percent of underpaid workers were at companies with 300 or more workers.
After the plan was announced, almost everyone who responded to a July survey by Korea Federation of Micro Enterprise said they saw a need to reduce the number of workers. Sixty-eight percent of the 532 respondents said they saw a 'strong need,' while another 24 percent said they saw a need.
And there are people within the government who are suggesting they might slow the rate of increase. Finance Minister Kim Dong-yeon said earlier this month that while the direction is for higher wages, the government will review the pace from next year. Kim Kwang-doo, the vice chairman for South Korea's National Economic Advisory Council, said at a recent seminar that the wage plan could have unexpected results if it wasn't accompanied by an improvement in the business environment.
However much the minimum wage actually rises, the Moon government will partly be judged on how successful it is in ensuring people's incomes continue to grow, and whether that actually leads to a re-balancing of the economy.
With debate on minimum wages not just confined to South Korea -- it's sparked rugged discussion among U.S. policy makers for New York to Seattle -- Moon's "experiment" will be closely watched for it's impact on Asia's fourth-largest economy.
Before it's here, it's on the Bloomberg Terminal.
LEARN MORE