Zuma's Ex-Wife Wouldn't Bring Radical Change, Fired Finance Chief Says
By
Country can't have repeat of last five years, ex-minister says

'Rotten bit has to be excised' from country's ruling party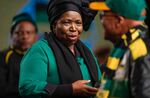 Hope for an improvement in South Africa's prospects "will be significantly dimmed" if Nkosazana Dlamini-Zuma becomes the next leader of the nation's ruling party in December, former Finance Minister Pravin Gordhan said. 
Dlamini-Zuma's campaign hasn't said anything that says "we're going to have a radically different South Africa to the one we've experienced in last five years," Gordhan said in an interview on Johannesburg-based Talk Radio 702 Tuesday. Citizens "can't go through what we've been through for the last five years" again, "both in terms of declining potential for this country and conscious efforts to place South Africa in a position where the majority is constantly losing out," he said.
President Jacob Zuma fired Gordhan as finance minister in March, prompting two of the three main credit ratings agencies to cut their assessment on the foreign-currency debt of Africa's most industrialized economy to junk. The economy slid into recession in the first quarter, the jobless rate is at a 14-year high and business confidence is at a three-decade low as political uncertainty intensifies in the lead-up to the African National Congress's elective conference in December. The ANC is in turmoil because of the scandals that have plagued Zuma, 75, during his eight-year tenure.
The leadership race has divided the party, with Zuma's faction favoring his ex-wife, Dlamini-Zuma, while Deputy President Cyril Ramaphosa is seen as the other front-runner. The winner would be the ANC's presidential candidate in the 2019 national election. A victory for Ramaphosa may spark renewed efforts to remove Zuma, who survived a secret-ballot vote by lawmakers to oust him as president of the country in August.
The "rotten bit has to be excised" from the ANC and the year-end conference presents an opportunity to do so, Gordhan said. Should this not materialize, "people like myself must find some other role," he said. 
"People that have caused institutional destruction and decimated those institutions that are critical to our economy and society" must be "held to account," Gordhan said.
Before it's here, it's on the Bloomberg Terminal.
LEARN MORE