Dior Buyers Responding to Chiuri Twist on Brand Spirit, CEO Says
By and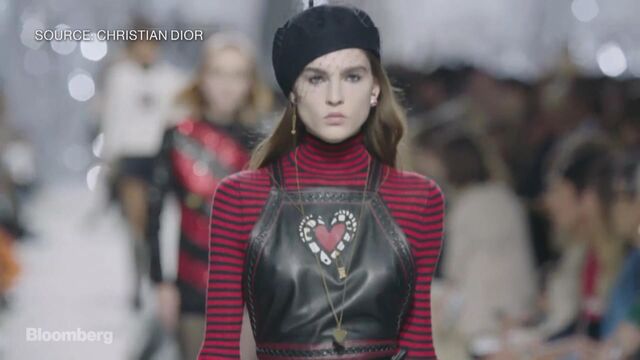 One year after designer Maria Grazia Chiuri showed her first collection for Christian Dior Couture, Chief Executive Officer Sidney Toledano says customers are responding to her creative changes. 
Chiuri, who was formerly co-creative director of closely-held Valentino SpA, is the first woman to lead Dior since it was founded in 1946.
"She is totally excited -- obsessed -- to understand what is the desire of woman and the young generation," Toledano told Bloomberg TV on the sidelines of Dior's spring-summer runway show Tuesday. Chiuri has brought "energy and femininity" to the label while "keeping the spirit of Mr. Dior," he said.
The direction at Dior comes as rebounding demand in China and a revival of European tourism are helping lift sales in the luxury industry.
Dior itself is undergoing a corporate upheaval after LVMH concluded a deal to take-over Christian Dior Couture for 6.5 billion euros, bringing the brand's fashion and accessories business under the same umbrella as the LVMH-owned perfume business for the first time since the 1960s. Shares in holding company Christian Dior SE have risen nearly 70 percent in the past 12 months as Chairman Bernard Arnault spends nearly 12.1 billion euros to squeeze out minority investors in the group. LVMH shares are up 52 percent.
Dior is likely to benefit from closer partnership with LVMH on e-commerce, where the brand hopes to expand by replicating the "unique service-selling proposition" of its retail stores, Toledano said.
Before it's here, it's on the Bloomberg Terminal.
LEARN MORE