Could Corbyn Really Be U.K. Prime Minister? Data Suggest Caution
By and
Many Labour activists are certain he's on the path to power

Third of Labour voters still have doubts about the leader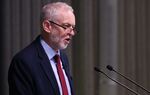 Could Jeremy Corbyn really be Britain's prime minister? That's the question that keeps being asked over drinks on the fringes of the opposition Labour Party's annual conference this week.
In the conference hall itself, there's little doubt. Indeed, a repeated refrain from the platform is that Labour was the real winner in June's election, even though it actually finished second. And with Theresa May's Conservative government in disarray as cabinet ministers jostle for position and fight over competing Brexit visions, Labour certainly feels the more upbeat party.
Track Corbyn's Journey from U.K. Punch Line to Serious Contender
The usual rule in politics is that success breeds success. One analysis of data from the British Election Study found that people were more likely to vote Labour this year if they thought it could win.
But many Labour candidates ran campaigns explicitly based on the idea that the party would lose, distancing themselves from Corbyn. One lawmaker, John Woodcock, went further, promising his voters that if it came to it, he wouldn't support the 68-year-old socialist becoming prime minister.
The promise was plausible because Labour was so far behind in the opinion polls when the election campaign started. But Joe Twyman, of polling company YouGov Plc, said this could also have meant Labour escaped the kind of scrutiny that voters would give a party they expected to form a government. 
Twyman pointed to polling that shows that four months after backing the party, nearly a third of Labour voters still aren't sure if Corbyn would be a better prime minister than May –- twice the level of Tory voters expressing doubts about May.
That suggests they voted for his party without thinking he could be prime minister. "If I were a Labour strategist, that difference would concern me,'' he said. "Can they take that third for granted next time around? The data suggests it's far from guaranteed.''
Labour's sudden popularity presents an opportunity, but also a problem. At the next election, Woodcock and his colleagues won't be able to say "Vote for me, not for him."
Before it's here, it's on the Bloomberg Terminal.
LEARN MORE