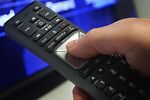 When it comes to Comcast Corp., two things tend to hold true. First, American consumers dislike it more than most other big corporate names selling stuff to them (and given that it has 29 million customers, chances are you may be reading this on a Comcast internet connection and nodding your head). The second is that shareholders, which have far warmer feelings toward Comcast, can count on the company to deliver profitable growth.

Whether one is a cause and the other an effect, I'll let you decide. For now, I'd like to focus on the latter -- Comcast's "profitable growth." It's a term often invoked by CEO Brian Roberts and his team when speaking on earnings calls and at investor conferences. In fact, it came up 45 times in the last five years in those settings, which is more often than almost any other company in the S&P 500 index.
At one conference this month, Roberts made the point that some of Comcast's rivals may at times get boosts in revenue, subscribers, cash flow or some other metric, but insinuated that Comcast is pretty much alone in balancing all of these while delivering consistent profits. So I decided to put this "profitable growth" claim to the test.
What I  found is that Roberts actually isn't overstating things. It's a lesson for other companies in the industry that are turning to costly acquisitions and expansion plans.
For a 54-year-old company worth $178 billion, Comcast's revenue gains are still quite impressive. After stripping out the impact of AT&T Inc.'s and Charter Communications Inc.'s own recent megamergers, 1  Comcast's revenue growth tops that of all its closest peers -- the pay-TV providers, but also the content producers that compete with its NBCUniversal division:

More important, Comcast offers investors the most predictable profit patterns, and margins that are higher than most. In the chart below, you'll see that amid the big swings in operating margins among some of Comcast's rivals, there's a stable black line that cuts right through them -- that's Comcast:

The same is true when you look at it versus NBCUniversal's biggest competitions. There's that black line again:

Case in point: Comcast is branching into wireless services, but it's doing so carefully by targeting existing Xfinity customers first, rather than going full speed for Verizon's and AT&T's subscribers or shelling out for an expensive takeover of T-Mobile US Inc.
Roberts also noted that amid a brewing M&A frenzy in the industry, Comcast remains a disciplined buyer. 2 That's partly due to the fact that the government would have to challenge just about any megadeal by Comcast given how much power it already possesses. However, Roberts made the fair point that AT&T is paying more than $85 billion plus debt to acquire Time Warner Inc., while Comcast opportunistically bought NBCUniversal for about $26 billion in a two-part deal -- the first in 2009 with a 51 percent stake, and later in 2013 by purchasing the remainder from General Electric Co. And the two media-network businesses generate almost comparable cash flows, he said.
Of course, poor customer satisfaction and dominance of certain markets that leaves little in the way of competition isn't something to celebrate. But what companies can learn from Comcast is how to take a thoughtful approach to acquisitions and organic expansion. As the saying goes, slow and steady wins the race.
... with some help from the folks at New Street Research, because AT&T doesn't make its organic growth figures easy to find or calculate.
Before it's here, it's on the Bloomberg Terminal.
LEARN MORE