Morneau Won't Budge on Deficits Despite Canada's Red-Hot Growth
By and
Loonie rises after minister sees 'success' at current level

Bloomberg hosts Canadian fixed-income conference in New York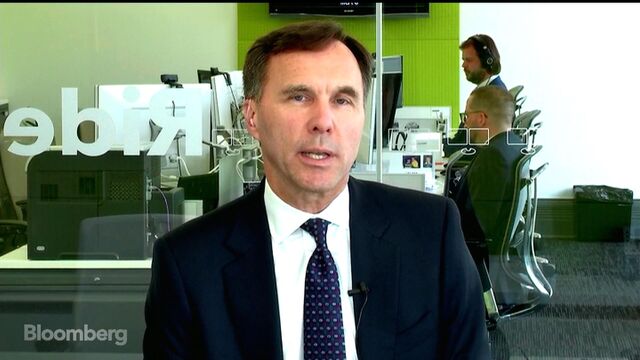 Canada's hot economy won't push Bill Morneau off his deficit spending plans, with the finance minister pledging continued cash for infrastructure and other programs to make the nation's expansion sustainable in the long-term.
Morneau, speaking Tuesday to the Bloomberg Canadian Fixed Income conference in New York, struck an upbeat tone about the resiliency of the country's economy -- saying it can withstand a higher dollar while expressing optimism over risks such as rising interest rates and U.S. trade talks.
While other panelists argued that deficits should be reined in amid strong growth, Morneau gave no indication he'll press for a return to balanced budgets as the economy improves. Instead, he hailed the merits of transfers to families, a tax cut to middle-income earners and infrastructure spending.
"I would say we're very much on track," Morneau said in a televised interview with Erik Schatzker from Bloomberg's Ottawa office. "We've seen a really positive trajectory, what we've said to people is we're going to remain fiscally prudent, we're going to continue to lower the amount of debt as a function of our GDP."
The government's main fiscal objective will be to lower the debt-to-output ratio, he said. Deficits coming in less than initially projected are a testament to his administration's fiscal "prudence," he added.
Last fiscal year's deficit came in at about C$18 billion -- or more than C$11 billion less than initially budgeted -- and this year's C$28.5 billion projected gap is poised to be below target by a similar magnitude. Canada's spending gap is less than 1 percent of GDP, the lowest among the Group of Seven nations after Germany, Morneau said.
The pick-up in economic growth poses a challenge for Prime Minister Justin Trudeau's Liberals, who have put government spending at the forefront of their economic agenda. While a strong economy that has returned to full capacity is good news, it makes the case for deficits less compelling, since the spending threatens to crowd out other parts of the economy. The growth is already fueling a stronger dollar and higher interest rates.
Morneau was bullish on the economy's ability to withstand the currency surge. Canada's dollar, known as the loonie, is up 8.9 percent against the U.S. dollar this year, among the best performers for major currencies.
"The current state of the dollar is a reflection of our positive economy, and that's something that we expect as a ramification of doing well," Morneau said. "But we think that we can continue to be successful with that level of the dollar. It will clearly mean that we'll have to continue to invest in productivity so that businesses are successful."
The Canadian dollar reversed intraday losses after the finance minister's comments and was up 0.2 percent at close of Toronto trading to C$1.2344 per U.S. dollar.

Morneau signaled the nation's growth rate -- which came in at 4.5 percent annualized in the second quarter -- can continue to be strong, despite some one-time factors that have contributed to the economy. He said a tax cut for those earning between roughly C$45,000 ($36,000) to C$90,000, and increased child-benefit payments, have injected money into the economy.
"While we can't argue exactly what the rate will be on a sustained basis, we've done some things that have changed the trajectory," he said.
One example of how the government is trying to improve the economy's long-term performance, while making the system more fair, is through proposed tax reforms aimed at high-income earners who incorporate to lower their tax bills, Morneau said. The measures have stirred outcry since being proposed in July.
"We've got some advantages that go only to a small subset of wealthy Canadians," he said, adding the government also wants to be sure the tax system creates incentives for "people to invest in their active business."
Interest Rates
Bank of Canada Governor Stephen Poloz has twice tightened monetary policy this year. Morneau said the rate hikes are "an expected outcome" of a strong economy, with the two increases "just really taking off the reduction that was put in place by our central bank governor when we had really a significant decrease in oil prices." Nonetheless, he said rates remain at "pretty historically low" levels.
"There's always going to be some headwinds, but things, as I say, they're positive right now and the increase in rates is a reflection of that positive economic situation," the finance minister said.
Risks remain for the Canadian economy. At the same conference, economists warned record high consumer debt could undermine the nation's ability to recover. There are the negotiations to revamp the North American Free Trade Agreement that could end badly.
Trade tensions heightened late Tuesday after the U.S. Commerce Department imposed duties on Bombardier Inc. Rival Boeing Co. accused the Canadian company of selling jets at less than fair value.
Aubrey Basdeo, head of Canadian fixed income at BlackRock, said at the conference that Canada is essentially running twin deficits -- current account and budget -- that could undermine investor confidence. He's disillusioned that the money is being spent on things that spur "conspicuous" consumption rather than long-term growth.
Morneau acknowledged there's uncertainty in the outlook, but signaled it was all the more reason to spend rather than push to return to surplus.
"I'm always going to worry and think about what risks might be around the corner," the minister said. "But the other part of the job is is to make sure we're doing the things that can enhance our long-term growth."
The country has a low total debt load relative to other countries, he said. "Having that great balance sheet is an advantage," he said.
G-7 Agenda
Morneau will have a chance to pitch his economic vision -- cash transfers to lower earners, higher taxes on higher earners and a focus on infrastructure spending -- to his G-7 colleagues next year when Canada chairs the group of nations. He said his G-7 agenda will be "very aligned" with his domestic one, including a focus on next-generation jobs.
"We're going to think about how do we build an ability for countries to think about education and training and retraining," Morneau said. "What are the approaches that we need to take to make sure that citizens feel engaged, and part of the work force, and part of the economy for the long-term? That's a key theme."
— With assistance by Greg Quinn, Erik Hertzberg, Sandrine Rastello, Jacqueline Thorpe, Jen Skerritt, Allison McNeely, Maciej Onoszko, Kevin Orland, Frederic Tomesco, and Doug Alexander
Before it's here, it's on the Bloomberg Terminal.
LEARN MORE