Boris Johnson: The Man U.K. Labour Can't Stop Talking About
By
Foreign secretary is 'clown in Tory circus,' Umunna says

Subject Brexit to paternity test, Johnson's shadow suggests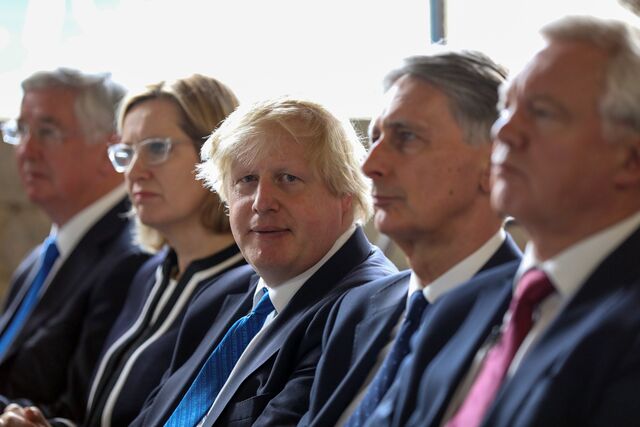 In the conference halls and seafront hotels of Brighton, one government figure looms large over the U.K. opposition Labour Party's annual conference: Foreign Secretary Boris Johnson.
Labour politicians, it seems, can't help but mention the former London mayor in their speeches and in debates on the fringes of the conference in the south-coast city. They've spent all week mocking Johnson's pronouncements on Britain's negotiations to leave the European Union and denouncing their potentially corrosive effects on the outcome of the talks.

Johnson is a divisive figure in Britain, credited with swaying many voters in last year's referendum to vote for Brexit after he toured the country in a bus promising to divert a weekly 350 million pounds ($470 million) of EU spending to the National Health Service. In July, he angered people in Europe and opponents at home with his comment that the EU could "go whistle" for the exit payment it expects Britain to make and 10 days ago published a 4,200-word newspaper article outlining his vision for the divorce.
"Every time the clown in the Tory circus that is Boris Johnson opens his mouth and says things like 'go whistle,' he undermines our negotiating position," Labour's former business spokesman, Chuka Umunna, said in a panel debate organized by the Centre for European Reform late on Monday.
Boris Impersonator
The foreign secretary has become a hate figure for those who supported "Remain" in last year's plebiscite, with many accusing him of backing "Leave" only to further his prime ministerial ambitions. At a pro-EU rally outside the conference on Sunday, a Johnson impersonator appeared on stage playing the foreign secretary as a stuttering buffoon with wild blond hair before performing a song apologizing for his past actions.
"Every time Boris Johnson says something ridiculous and it's reported in the papers, all of our EU partners see that," Theresa Griffin, a Labour member of the European Parliament, told another side meeting at the conference. The foreign secretary's comments are "dreadful" and suggest "confrontation rather than alliance-building."
The "go whistle" comment was also invoked by Labour's Brexit spokesman, Keir Starmer, who said on the same panel as Griffin that "tone and approach matters."
"If you want to be constructive and have a close partnership with them in the future, then you don't insult your colleagues as you go into the negotiations," Starmer said.
But perhaps the most vitriolic attack on Johnson came from Labour's foreign-affairs spokeswoman, Emily Thornberry, the lawmaker tasked with shadowing him in Parliament.
"Conference, please let's just take a second to sympathize with poor old Boris," she said in a speech. "He's not been happy lately. Apparently he's sick of being blamed for the way Brexit is going and all the broken promises of the 'Leave' campaign."
Warming to her theme, Thornberry then alluded to Johnson's colorful private life. "Who does he think made all those promises? Who does he think was in charge of the 'Leave' campaign?" she said. "I know Boris doesn't like paternity tests, but we might need one for Brexit."
Before it's here, it's on the Bloomberg Terminal.
LEARN MORE