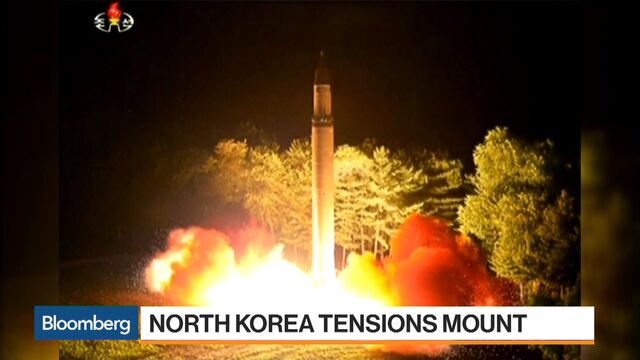 Years of sanctions against North Korea have done little to slow its nuclear-weapons program, so much so that its missiles now threaten the continental U.S. Yet many analysts still promote sanctions as the best way to deal with the threat from Kim Jong Un's regime. Some even speculate that unilateral U.S. sanctions, imposed by President Donald Trump on Sept. 21, have a better chance of working than most of what's come before. As one observer put it, Trump's executive order effectively allows the U.S. to impose a full trade and financial embargo through the use of secondary sanctions, which target non-U.S. banks, companies and people who do business with North Korea. In other words, these sanctions may have real teeth.
1. What does Trump's order do?
It gives the U.S. Treasury Department the authority to block from the U.S. financial system all banks and companies that do business with North Korea. It allows the U.S. to seize the assets of any individual it deems in contravention of the president's order. The U.S. will be able to target any North Korean citizen -- not just those named on a proscribed list -- as well as anyone engaged in trade with North Korea. The order also lets the U.S. ban ships or aircraft that have made stops in North Korea from the U.S. for 180 days.
2. How does this differ from past sanctions?
Until now, the U.S. had mainly relied on sanctions coordinated through the United Nations. Trump's order goes beyond those, which limit the supply of oil and refined petroleum and restrict other goods like coal, iron, seafood and textiles. Among previous U.S.-only measures, President Barack Obama's administration in February 2016 focused on cutting funding for North Korea's missile and nuclear program rather than targeting its entire economy. And in July, the U.S. banned Americans from visiting North Korea, following the death of Otto Warmbier, a U.S. tourist.
3. Has the new approach been tried before?
In seeking to effectively cut North Korea off from the global banking system, Trump is replicating the sanctions Obama used to bring Iran to the bargaining table in 2015. For the preceding decade, the U.S. and other major powers mostly sought to squeeze a key source of revenue for Iran's economy: oil. Some say Trump is going beyond the Iran sanctions. One expert at the Washington-based Peterson Institute for International Economics said Trump's sanctions are "the most significant experiment in the use of secondary sanctions on North Korea to date, and perhaps the most significant such experiment with respect to any country ever."
4. Will China cooperate?
China has always said it opposes unilateral sanctions -- what it calls long-arm jurisdiction -- imposed outside the UN's consensus-approved measures. China is concerned that far-ranging economic sanctions will hurt ordinary North Koreans and lead to the collapse of the economy and the regime, resulting in a humanitarian disaster that could spill over its borders. In terms of financial sanctions, China's central bank has instructed institutions to suspend accounts of clients doing business with North Korea, in compliance with UN sanctions imposed on Aug. 5. In June, the U.S. targeted a specific bank when it cut off the Bank of Dandong from its financial system, prompting a protest from China's foreign ministry.
5. How exposed is China?
China is North Korea's biggest trading partner, supplying it with about 90 percent of its energy and much of its food. Trump's latest sanctions could penalize Chinese individuals or entities involved with North Korea. By deploying its new powers against Chinese companies, the U.S. risks provoking a trade and financial war with the world's second-biggest economy.
6. Will Trump's measures force Kim to change?
Hard to say. Many of the banks and companies North Korea deals with have little or no exposure to the U.S. financial system. And North Korea has shown a remarkable ability to absorb economic pain, partly because it's much more isolated than, say, oil export-dependent Iran. Trump's sanctions will have little or no effect on North Korea's black and grey economies. Sanctions also take time to bite, meaning there's a risk Trump will lose patience and turn to the military options he often threatens. Kim may also decide to escalate his provocations in a bid to to force the U.S. to back down, further inflaming the situation. The sanctions may well inflict unprecedented economic hardship, but that still might not be enough to force Kim to the negotiating table.
The Reference Shelf
— With assistance by Agnel Philip
Before it's here, it's on the Bloomberg Terminal.
LEARN MORE