Russian Retailer Backed by Brooklyn Nets Billionaire Weighs IPO
By
Obuv Rossii said to seek as much as $120 million in Moscow

Retailer makes 60% of its sales via 10-month installments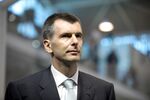 Obuv Rossii, a Russian shoe retailer backed by billionaire Brooklyn Nets owner Mikhail Prokhorov, is seeking to raise as much as $120 million in an initial public offering, according to a person familiar with the matter.
The company said in a statement Tuesday that it plans to offer a stake of as much as 40 percent on the Moscow Exchange in October and use the proceeds to double its store network over the next three to five years. Prokhorov, who owns a quarter of Obuv Rossii, won't be selling his stake, said the person, who asked not to be identified because the information is private.

The offering may be the first major IPO by a Russian company since billionaire Vladimir Evtushenkov's children's-goods retailer Detsky Mir PJSC sold shares in February. Footwear is a resilient market that posted sales growth in ruble terms amid Russia's recent recession, according to Discovery Research Group.
Obuv Rossii is unusual because it makes 60 percent of its sales through installment plans, giving consumers as long as 10 months to pay for their shoes. An arrangement typical for expensive items like household appliances and fur coats turned out to be popular for $150 leather boots, too.
'Why Not?'
"When a decade ago I heard at an industry conference that handset retailers are selling phones -- even the cheaper ones -- on credit to boost sales, I thought, why not do it with shoes?" Obuv Rossii founder and Chief Executive Officer Anton Titov said in an interview in which he declined to comment on any IPO plans. "At first, banks treated us as if we were maniacs, saying this won't work with shoes. But it did."
Prokhorov, who built his $11 billion fortune initially through metals and now owns interests from banking to energy to sports, bought his stake in Obuv Rossii in December through his family office. His Renaissance Capital is among the investment banks managing the shoe chain's IPO, along with BCS Global Markets, Citigroup and Sberbank CIB.
A spokesman for Prokhorov's investment vehicle Onexim Group said Obuv Rossii was a private investment for the billionaire and declined to comment further.
When he decided to offer installments, Titov first started joint projects with lenders, enabling the company to offer customers interest-free loans. After banks tightened scoring procedures and cut down on lending after the 2008 financial crisis, Obuv Rossii started providing installments to consumers itself.
"About 80 percent of our customers are women inclined to impulse purchases -- they come to a store to buy shoes, and then they see a nice bag and want a belt also," Titov said. "That's where our installments program steps in."
Obuv Rossii's customers can generally afford buying its midprice shoes without credit, according to Titov. "So, our installments are rather a matter of marketing and winning consumer loyalty," he said.
Default Rate
The default rate was 6.5 percent last year, when Russia was still in recession, and now is around 5 percent, which is "a very low level for consumer lending," Titov said.
"The fraud risk is relatively low because shoes are a personalized product," he said. "If you are a swindler, and you buy shoes with the intention not to repay the installment, it's not easy to sell these shoes of a particular size and pattern as soon as you exit the store."
Before it's here, it's on the Bloomberg Terminal.
LEARN MORE