Ross Meets Li in China on First Stop of Asia Tour
Bloomberg News
Warm reception in China augers well for Trump visit, Ross says

Beijing is Secretary's first stop on a five-day trip to Asia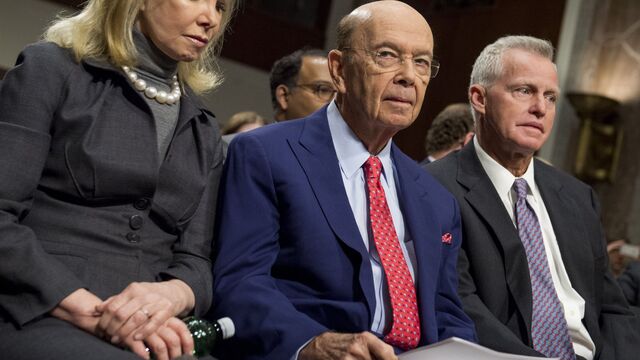 U.S. Commerce Secretary Wilbur Ross told leaders in Beijing he plans to lead a senior level trade mission to China in November and again backed efforts to reduce the trade imbalance.
Premier Li Keqiang and other top officials met Ross Monday to prepare for President Donald Trump's planned visit to Asia later this fall, the Commerce Department said in a statement.
Ross stressed his intent to cut the U.S. trade deficit with the world's largest exporter with "increased exports of high-value U.S. goods and services to China and improved market access," the Commerce Department said in a statement. He also engaged on investment, intellectual property, tariffs, and reciprocal treatment for American companies.
Chinese officials stressed the importance of dialogue when it comes to unilateral action and said Beijing would have to respond in kind to any potential U.S. action. Both sides said trade frictions should be resolved through negotiation.
Beijing is Ross' first stop on a Sept. 24-29 trip to Asia that will also include visits to Hong Kong, Bangkok and Vientiane, Laos. Ross also met with China's Vice Premier Wang Yang and Liu He, a key financial and economic adviser to President Xi Jinping, according to the statement.
The visit comes as the U.S. increases calls to reduce the trade deficit with the world's biggest exporting nation and as threats of North Korea's nuclear progress continue to simmer. 
Read more: Trump Said to Visit China in November Amid North Korea Tensions
Earlier this month, Ross announced a probe into China's stainless steel flanges for alleged unfair subsidies, the latest move after the U.S. Trade Representative began an investigation into China's intellectual property practices. China on Friday announced it would restrict some oil product exports to North Korea, as Trump seeks to further isolate Kim Jong Un's regime.

China hopes the countries can improve economic and trade ties and that their common interests outweigh their differences, Li told Ross Monday in brief comments to reporters before the meeting.
Li said he hoped the U.S. would be fair on Chinese investments and would loosen high-tech exports to China, according to a China Central Television report. Trump rejected a China-led takeover of U.S. chipmaker Lattice Semiconductor Corp. earlier this month on national security grounds, clouding the outlook for other Chinese deals seeking clearance.
— With assistance by Miao Han
Before it's here, it's on the Bloomberg Terminal.
LEARN MORE