Merkel Seeks to Calm Upheaval After German Political Map Altered
By , , and
Political parties have duty to ensure stable government

Speculation on new election shows 'contempt,' Merkel says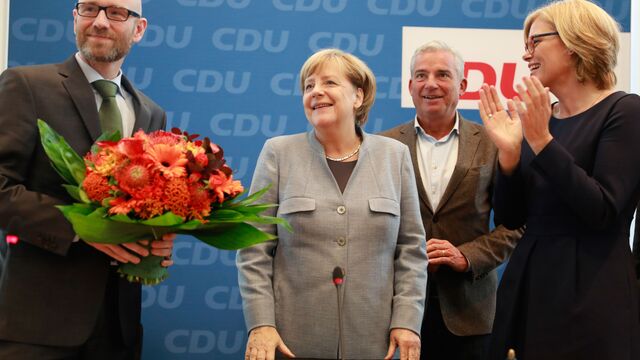 Chancellor Angela Merkel sought to calm upheaval a day after German voters rearranged the country's political map, insisting that parties have a duty to bridge differences in forming a new government to stave off a new election.
Even after Merkel's Christian Democratic Union-led bloc won the ballot, the party was reeling from its worst performance since 1949 and contending with the first significant far-right party in parliament since the immediate aftermath of World War II. Merkel called on the Social Democrats, who fared worse and have ruled out joining a government, as well as two smaller parties to take up their responsibility and join talks.
"I suggest that everybody, and I think the other parties know this, must accept the election result," Merkel told reporters in Berlin on Monday. "All speculation about a new election shows contempt for the will of the voters. I'm deeply convinced of this."
Merkel's CDU met to take stock of the election, which saw support for the two main parties crumble as the anti-Islam Alternative for Germany entered parliament as the third-largest party. "The chancellor's nightmare victory" was the verdict from Bild, the country's best-selling newspaper.
While there are echoes of the anti-immigration debate current across Europe and in the U.S., where President Donald Trump's administration added three countries to a proposed travel ban that opponents say is directed at Muslims, the AfD is still a long way from exercising power in Germany.

Merkel said the CDU had to confront the reality of more than 2 million voters abandoning the party, including more than a million to the AfD, in a rebuke to her open-border refugee stance. The chancellor said she would begin preliminary talks on a coalition with the pro-business Free Democrats and the Greens -- adding that the SPD must "remain in contact."
SPD leader Martin Schulz, who assailed Merkel as partly responsible for the rise of the AfD, dug in.
"I will never belong to a government with Angela Merkel," Schulz told reporters at SPD headquarters. He said he would appoint current Labor Minister Andrea Nahles as head of the party's parliamentary group to lead the opposition against Merkel.
Grand Coalition
The SPD's refusal to join Merkel, 63, and reprise the so-called grand coalition that's governed Germany for four years, has narrowed her political options. A chorus of political officials have said such a three-way alliance with the FDP and Greens could take months of negotiating.
Daniel Guenther, who has presided over the same three-way hookup in Schleswig-Holstein state since the summer, said the hurdles to forming such a coalition at the federal level are higher.
"There are a few topics where we're far apart: security, integration, refugee policy," he told reporters as he arrived for the CDU meeting. As a result, "it's not a given" that it'll work, he said.
Meanwhile, a rift threatened to emerge with Merkel's CSU Bavarian allies, which have demanded the imposition of a cap on migration since the 2015-2016 refugee crisis. Bavarian premier Horst Seehofer raised the issue of the party's cooperation with the CDU in parliament, saying it should be subject to approval by his party. On election night, he said the losses were due to an opening of the CSU's "right flank," which needed to be closed.
Bridging Differences
Katrin Goering-Eckardt, a candidate for the Greens, said any talks with Seehofer will be "very tough," especially on migration. Like Merkel, the Greens reject an upper limit on migration as legally indefensible.
"I assume, however, that the state premier of Bavaria has a strong interest in ensuring that the Federal Republic of Germany has a stable government in difficult times, within Europe," Goering-Eckardt told reporters. 
The surprisingly bad result by Merkel's bloc threw open fresh questions on her fourth-term agenda. The euro declined on the prospect of prolonged coalition talks, with six parties poised to enter the lower house, the Bundestag, for the first time since 1953.
The single currency dropped 0.7 percent to $1.1882, while the yield on German 10-year bonds slid four basis points to 0.41 percent. The nation's DAX Index of shares added 0.2 percent.
Siemens, VW
The chief executive officers of two of Germany's biggest companies, Siemens AG's Joe Kaeser and Volkswagen AG's Matthias Mueller, issued statements expressing their concern at the election result.
Kaeser said the AfD's elevation to the Bundestag was a defeat for German "elites" that had to do more to convince the party's voters. Mueller spoke of his shock that the "populist, right-wing, xenophobic" AfD had scored so highly. "Germany has been politically and economically successful because we are a tolerant, cosmopolitan and internationally-minded country," Mueller said. "This is something we must keep on fighting for."
How Merkel Won And Lost at The Same Time: Balance of Power Extra
For all their ideological differences, both the Greens and Free Democrats want to be in power, so they "will make an effort to agree," Famke Krumbmueller, a partner at political-risk consultancy OpenCitiz, said by phone. "If that fails, then the only option would be with the SPD. That would force their hand, since the only other option is a new election."
Once a government is in place, Merkel will face huge global expectations -- from shoring up the euro area together with France to setting Europe's tone in its dealings with Trump and tackling the diesel-emissions crisis that threatens Germany's dominance in producing luxury cars.
Domestically, she will face a noisy opposition in the AfD, whose ranks are prone to infighting. Divisions were on display Monday, when party co-chair Frauke Petry stood up and left a press conference with other AfD leaders, unexpectedly announcing that she won't join the party's caucus.
Founded as an anti-euro party opposed to financial bailouts for Greece and other southern European nations, the AfD narrowly missed out on Bundestag seats four years ago. With new leadership and a campaign focused on immigration -- the party demands shutting the border to new asylum seekers and calls Germany's Muslim minority "a great danger to our state" -- it succeeded in tapping into a well of discontent with Merkel's policies.
— With assistance by Rainer Buergin
Before it's here, it's on the Bloomberg Terminal.
LEARN MORE