Here Are Merkel's Complicated Coalition Options
By and
Merkel to attempt multi-party coalition should SPD stays out

Looming over talks is possibility of needing new elections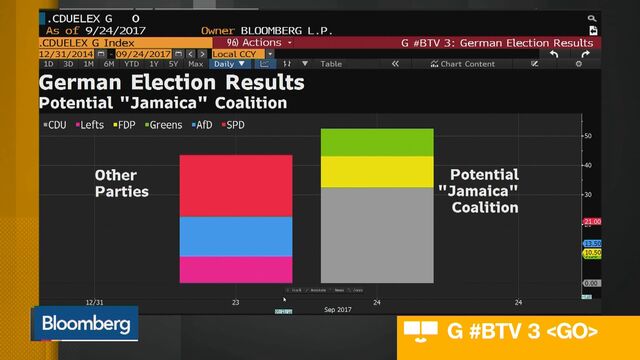 A day after Angela Merkel's party turned in its worst performance since 1949, the political reality began setting in that forming a new German government will not be an easy task.
The chancellor's partner the last time around, the Social Democrats, did even worse, leading them to conclude they don't want to take part in the next government -- at least for now. That's left Merkel with only one real option: a coalition between her bloc, the pro-business Free Democrats and environmentally friendly Greens that has never been tried nationally.

"All parties have a responsibility to ensure the creation of a stable government," Merkel told reporters on Monday in Berlin, adding that she would pursue talks with the Greens, FDP and also the SPD.
Most everyone on Monday was acknowledging that a Jamaica coalition -- named for the party colors of Merkel's Christian Democratic Union, FDP and the Greens, which are the same as the Jamaican flag -- would be a difficult task to accomplish. Should that fail, the options left to the chancellor would be trying to convince the Social Democrats to change their mind, forming a minority government (unheard of in Germany) or calling new elections.
Jamaica
It would be the first time the Greens had joined a national government that wasn't led by the SPD, and the party's insistence on policies such as phasing out combustion engines and brown coal collides with Merkel's bloc and the FDP. That said, one senior party member indicated before Sunday's vote that such policy positions weren't red lines in possible talks.
"For us, it's clear that the next federal government must have a clear European compass and that compass must be pro Europe," Cem Oezdemir, co-leader of the party, said on Monday, adding that implementing the Paris climate agreement, social justice and ensuring a fair society will also be key in any talks. Katrin Goering-Eckardt, the Greens' other chief, summed it all up by saying the upcoming negotiations will be difficult.
For his part, FDP leader Christian Lindner called for a "turnaround" plan for Germany's economy with larger cuts in income taxes and more business-friendly approach. The FDP also wants to allow countries to leave the euro in an orderly way without quitting the European Union, limit the firepower of the European Stability Mechanism -- the euro-area's bailout fund -- and introduce automatic sanctions in case of excessive budget deficits.
"Our recommendation is that the old stability-oriented policy be resumed in Germany, and yes, that is a change of direction," Lindner said on Monday.
What's Up Bavaria?
Adding complexity to any talks is that Merkel bloc's is actually made up of two parties, her CDU and a Bavarian sister party called the Christian Social Union.
CSU support also plummeted on Sunday night, leading Bavarian premier Horst Seehofer to question whether his party would form a joint parliamentary caucus with the CDU, a breach that hasn't occurred since the 1970s. With a state election in Bavaria coming next year, Seehofer, who has insisted on a cap on migration, has expressed skepticism about governing with the Greens, who along with Merkel oppose such restrictions.
Following Sunday's poor performance, Seehofer said the Merkel-led bloc had made a mistake by leaving "our right flank to some extent open" to the anti-immigration Alternative for Germany, which won more than 13 percent of the vote nationwide. That opening "now needs to be closed," he said.
Minority Government
Short of any coalition majority, a minority government is in the tool kit for most parliamentary democracies. But it's never been done in Germany on the federal level. Merkel largely ruled out the option on election night, underscoring the country's premium on political stability. A CDU-led coalition with just the party's traditional partner, the FDP, would fall an estimated 29 seats short of a majority.
New Elections
Looming over any coalition talks is the specter that failure to form a new government would trigger a new vote, something that hasn't occurred in the 68-year history of the republic. Before the election, Jacob Kirkegaard, a senior fellow with the Peterson Institute for International Economics in Washington, put the chances for a new election at 10-15 percent. Merkel said on Monday that such a move would not reflect the will of voters.
Grand Coalition Reboot?
The results Sunday night numerically make another grand coalition between Merkel's bloc and the SPD possible. While SPD leader Martin Schulz and others in the party were quite vehement in saying they would now join the opposition, there's discussion that the SPD could still be persuaded at the 11th hour to join a coalition -- should other options fail -- to stave off a new vote. Even if Schulz gave in, party leaders are likely to put the decision to a vote of the membership, meaning it could still be rejected.
Timing


Given the complexity of the coming negotiations and an upcoming state election in Lower Saxony on Oct. 15, political observers expect the talks to drag on for weeks, making it likely that Merkel won't be sworn in for a fourth term until December.
— With assistance by Arne Delfs, and Rainer Buergin
Before it's here, it's on the Bloomberg Terminal.
LEARN MORE