It's Not Just Comey: Nixon's 'October Surprise' Details Revealed
By
New evidence emerges on earlier episode of election disruption

Documentary spotlights Nixon's back-channel with South Vietnam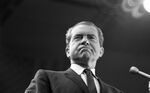 Former FBI Director James Comey's decision to reopen the Hillary Clinton email review in 2016 is the most famous example of a pre-election "October Surprise," but new claims have surfaced regarding an earlier bombshell involving Richard M. Nixon and Vietnam.
As the Republican presidential candidate in 1968, Nixon sought to buttress his chances of beating Democratic opponent Hubert Humphrey by personally directing a representative to sabotage talks on ending the Vietnam War, a new documentary claims. The move was aimed at scuttling Democratic President Lyndon Johnson's ability to deliver news of a peace breakthrough to a war-weary nation on the eve of the election.
Comey's surprise was carried live on national television, and the leak of Clinton's emails prompted investigations of Russian interference in the 2016 race that live on to this day. But details of the Nixon camp's plot have unfolded slowly since about 2000, when the first examples of FBI surveillance memos were made public to researchers.
Now, the new PBS documentary "The Vietnam War" reports that a representative of the Nixon campaign had secretly contacted the Saigon government "at the candidate's personal direction" urging it to stay away from the negotiations in Paris. The representative promised that once Nixon got elected, "he would drive a harder bargain with Hanoi than Humphrey would," according to the episode.
South Vietnam's president, Nguyen Van Thieu, waited several weeks before sending a delegation to Paris, and as a result, "the Nixon campaign's secret maneuvering may have helped him win the election," the episode claims, according to a script viewed by Bloomberg.
Chennault Affair
In the documentary, Nixon is heard denying the plot in a tape-recorded phone conversation with then-President Johnson. The final episodes of the 10-part series by Ken Burns and Lynn Novick air this week.
The Vietnam episode also finds echoes in the current investigation into whether anyone close to Donald Trump colluded in Russia's efforts to interfere in last year's presidential campaign, although in Nixon's case the alleged contacts were with a U.S. ally rather than an adversary.
Evidence of Nixon's direct involvement in the so-called Chennault Affair only surfaced in January in a new biography by John Farrell. Many documents about the plot remain classified.
Historians are mixed on what influence those overtures had on Saigon's election-eve announcement not to attend the talks, a decision that also came after Johnson ordered a halt to bombing of North Vietnam. Nixon was elected in November 1968 by 43.4 percent of the vote to Humphrey's 42.7 percent. More than 20,000 U.S. troops would die in Vietnam during Nixon's administration before the U.S. withdrawal in 1973, according to data compiled by the National Archives.
Biographers starting with Anthony Summers and most recently Farrell documented the Nixon camp's illegal contacts with South Vietnam's leadership through Republican loyalist Anna Chennault, Republican fundraiser and widow of World War II "Flying Tigers" leader Claire Chennault.
Haldeman Note
Farrell discovered a scrawled note by aide H.R. Haldeman dated October 22, 1968, recounting a conversation with Nixon that day quoting the candidate encouraging efforts to disrupt discussions between the Johnson administration and Thieu. "Keep Anna Chennault working on South Vietnam," Haldeman wrote. "Any other way to monkey wrench? Anything RN can do."
Johnson got wind of the Nixon team's back-channel to Thieu, thanks to a CIA listening device in Thieu's Saigon office and an FBI wiretap on the South Vietnamese embassy in Washington, the documentary shows. Johnson then called his friend Senate Republican Minority Leader Everett Dirksen.
Johnson warned Dirksen "that the Nixon people were committing 'treason,' " the documentary shows, introducing a taped conversation between the two to be played Monday night. "I think it would shock America if a principal candidate was playing with a source like this on a matter this important," Johnson is heard to say.
A taped conversation between Johnson and Nixon will also be played. Nixon says on the tape that "any rumblings around about somebody trying to sabotage the Saigon government's attitude" about the talks "certainly has no, absolutely no credibility as far as I am concerned."
Nixon's Secret
"My God, I would never do anything to encourage Saigon not to come to the table," Nixon said on the tape.
But "Nixon was lying and Johnson knew it," the documentary continues. But for Johnson to go public with the information, he would had to reveal the sources and methods used to obtain it, and he didn't want to do that.
So "Nixon's secret was safe," says the documentary. "The American public was never told that the regime for which 35,000 Americans had died had been willing to boycott peace talks to help elect Richard Nixon -- or that he had been willing to delay an end to the bloodshed in order to get elected."
Before it's here, it's on the Bloomberg Terminal.
LEARN MORE